I've always looked at Pauline Alice patterns from afar, I don't really know why… I find them all beautiful and detailed, but I don't know, I've never really pictured myself in them. Not my style I guess. Quart was no different from the others in my heart, I thought it was nice, but didn't really lie the pleated side panels. But when I saw Pauline's hack to turn it into a perfecto, I didn't even think and I went for it! I looooove perfectos. If I had enough room (and an unlimited bank account, ahem) I could have dozens and dozens of perfectos. It's a shape I really like, and that I consider a basic in my wardrobe. I liked the idea to have a crossover between a coat and a perfecto. And besides, I needed a short coat.
---
Quart, the tailored coat from Pauline Alice
Is there still a need to present this pattern? The Quart coat is a classic tailored coat, mid-thigh, with a double breast front, pockets hidden in the side seams, a pleated side piece and a high collar. It can be sewed using classical tailoring technique (hand sewn interfacing, shoulder pads and sleeve head strips) or in a more "modern" way (using fusible interfacing instead of hand sewn for example). The perfecto version (her tutorial for this hack is available on her blog) is short, without pleated side pieces and the buttons have been swapped for an exposed zipper.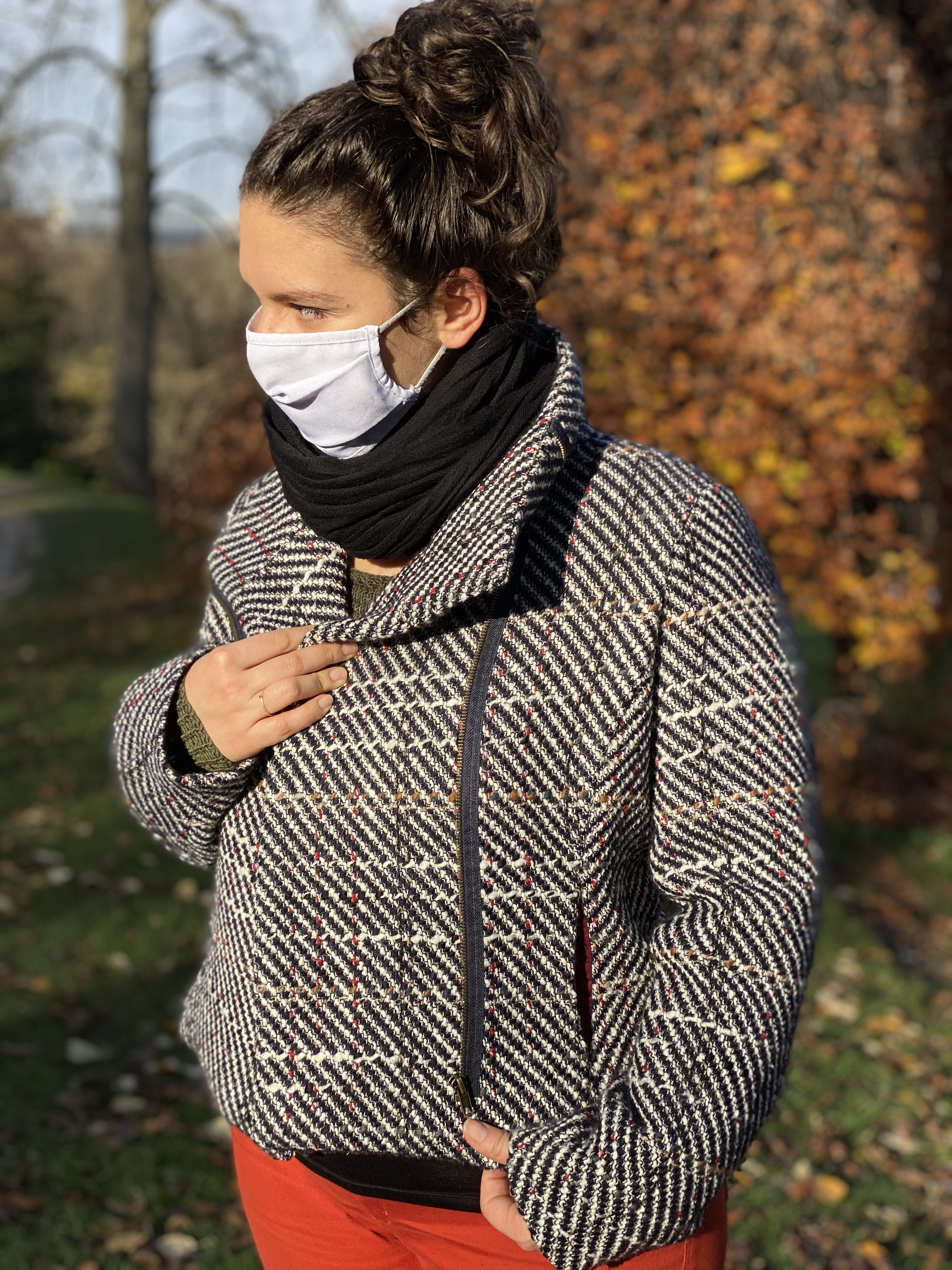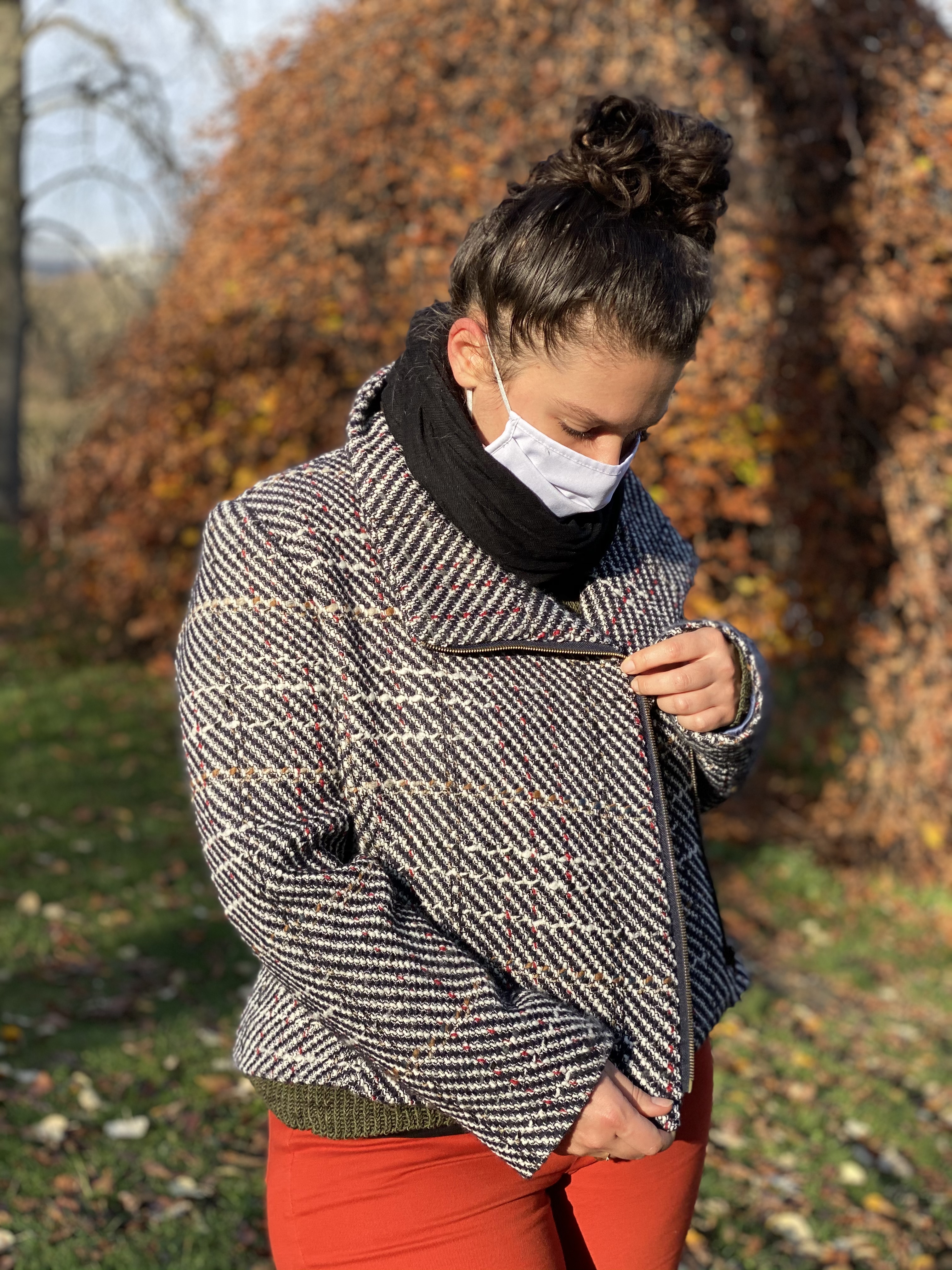 My version
For my version, I used a woven wool fabric, that I bought at Cousette a few years ago. I planned to make a long coat with it, but I changed my mind for a shorter one. The weave of the fabric is quite loose, so the fabric is quite soft. Too soft, and not stiff enough for what I wanted. So I entirely interfaced the coat: all of the pieces are interfaced (I used fusible interfacing). The strands of wool that are woven together to from the fabric are quite thick and they are not twisted: they are single threads. And because of this, the strands are more prone to friction, which cause pilling. So yeah, I really like the fabric, but it tends to pill. I don't blame Cousette at all, it's totally normal, that's how wool behave when it's woven like this. But it's good to have in mind if you plan to sew a fabric like this one.
For the lining, I used a bemberg lining from my stash, and a scrap of burgundy cotton lawn for the pockets.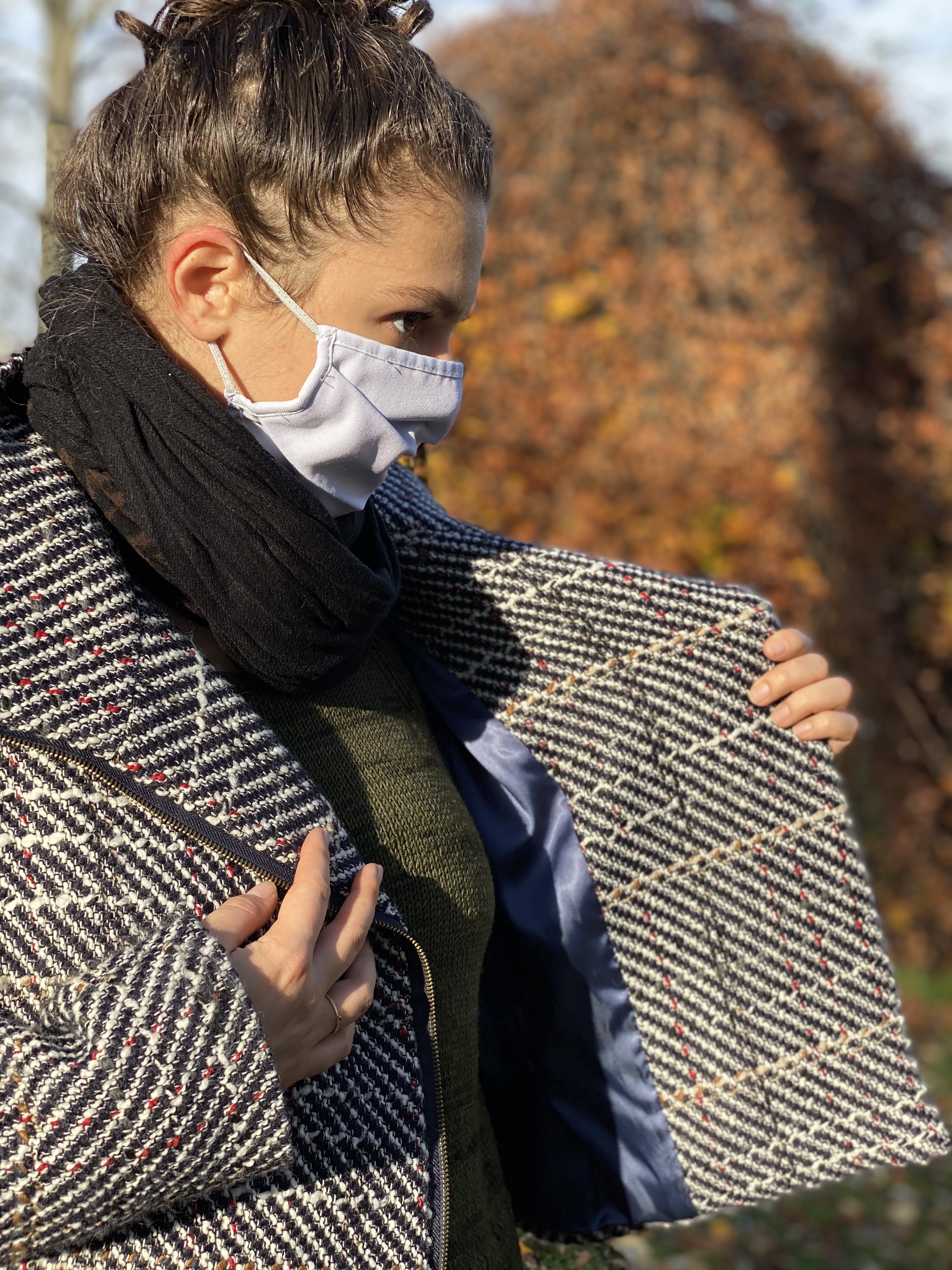 Of course, I had to make a muslin for this one… And once again, it was good thing. I made my muslin all in size 44: it was OK, but not roomy enough to allow me to wear chunky sweaters underneath, so I went for the following sizing for my final version:
44 at the bust
46 ad the waist and hips.
(First time ever I've had to size up for my waist!!)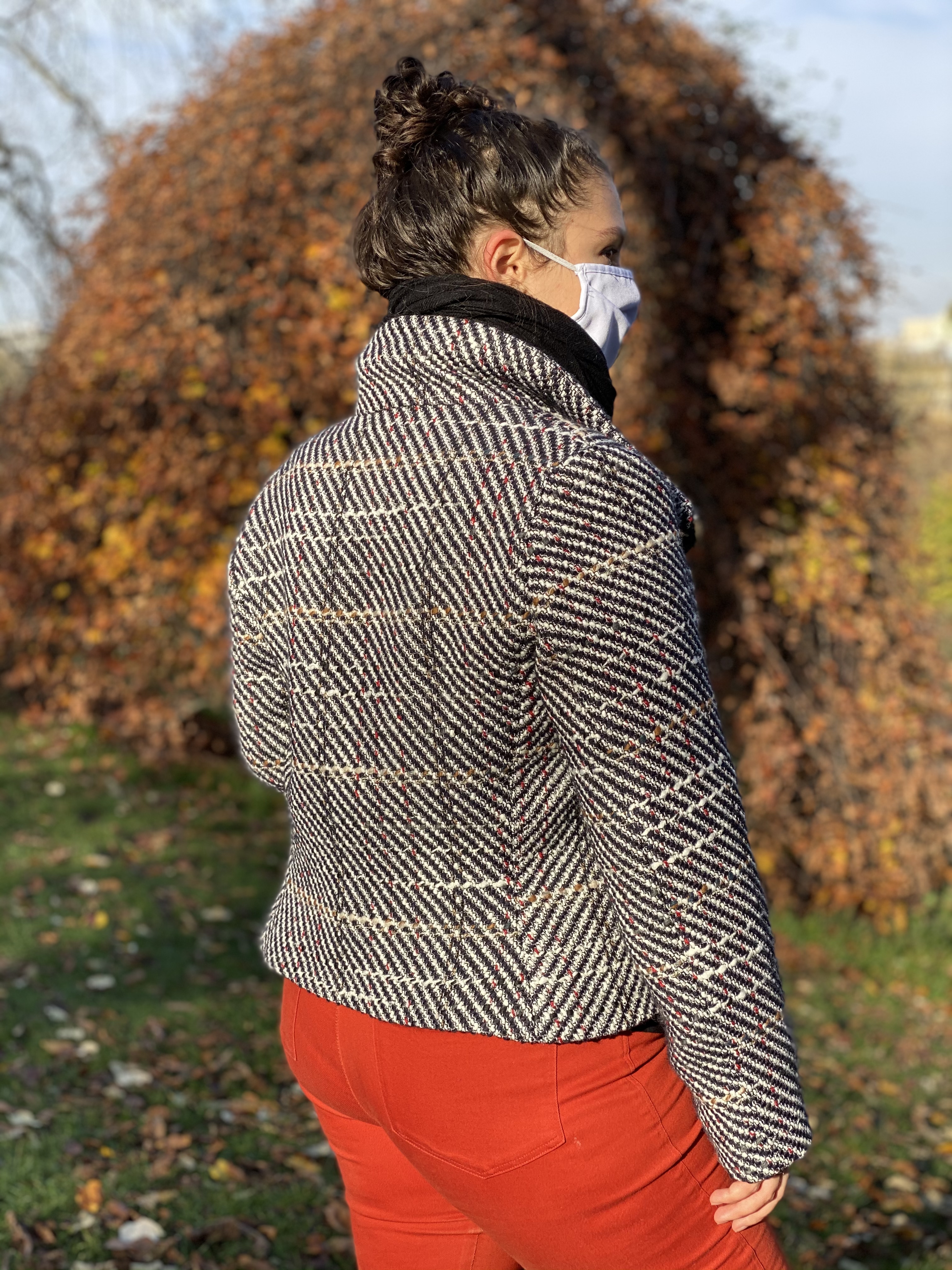 Adjustments
I've strictly followed Pauline's tutorial and everything went smoothly. The only liberties I took from the instructions were:
as I said, I interfaced every single piece of the shell,
I serged every piece, because my fabric was unraveling,
I anchored every seam allowance by an invisible hand stitch to make them stay nicely opened and flat,
I fixed the 2 layers of the collar inside by hand.
And I have to admit, there was a mistake… Sorry, an "unplanned modification". There was sooooo many pieces to interface that I got it wrong and interfaced the right side of the fabric on the side pieces… I had enough fabric to cut them again, but at this point I just wanted to get on with sewing the damn coat! And now that I see it finished, I kind of like the chevron effect it creates. So, happy mistake :)
Verdict
I love this fabric, it gets a lot of love and a lot of wear. The length is perfect with high waisted pants and skirts, and I reaaaally love the high collar. If I had to say something, the only thing I would have liked is for it to be a tiny bit warmer… But apart from this, it's a great success, and really worth the time and effort!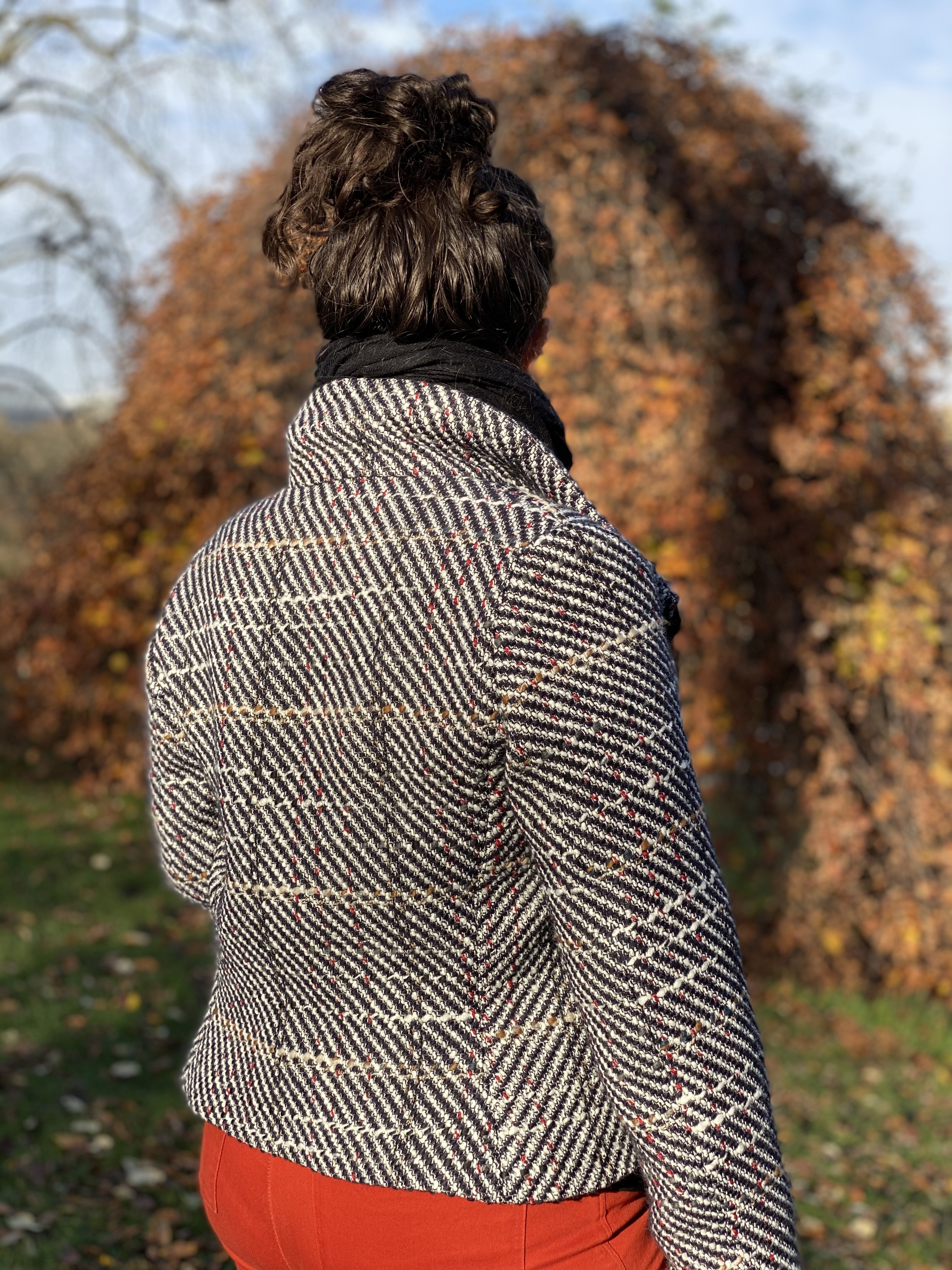 In these picture I'm wearing the coat with my Citrine sweater from Emily Green and Safran pants from Deer and Doe.