Today we'll talk about lingerie sewing. If you'd have asked me a few back if I planned on sewing lingerie one day, I would have laughed soooo hard! … And yet!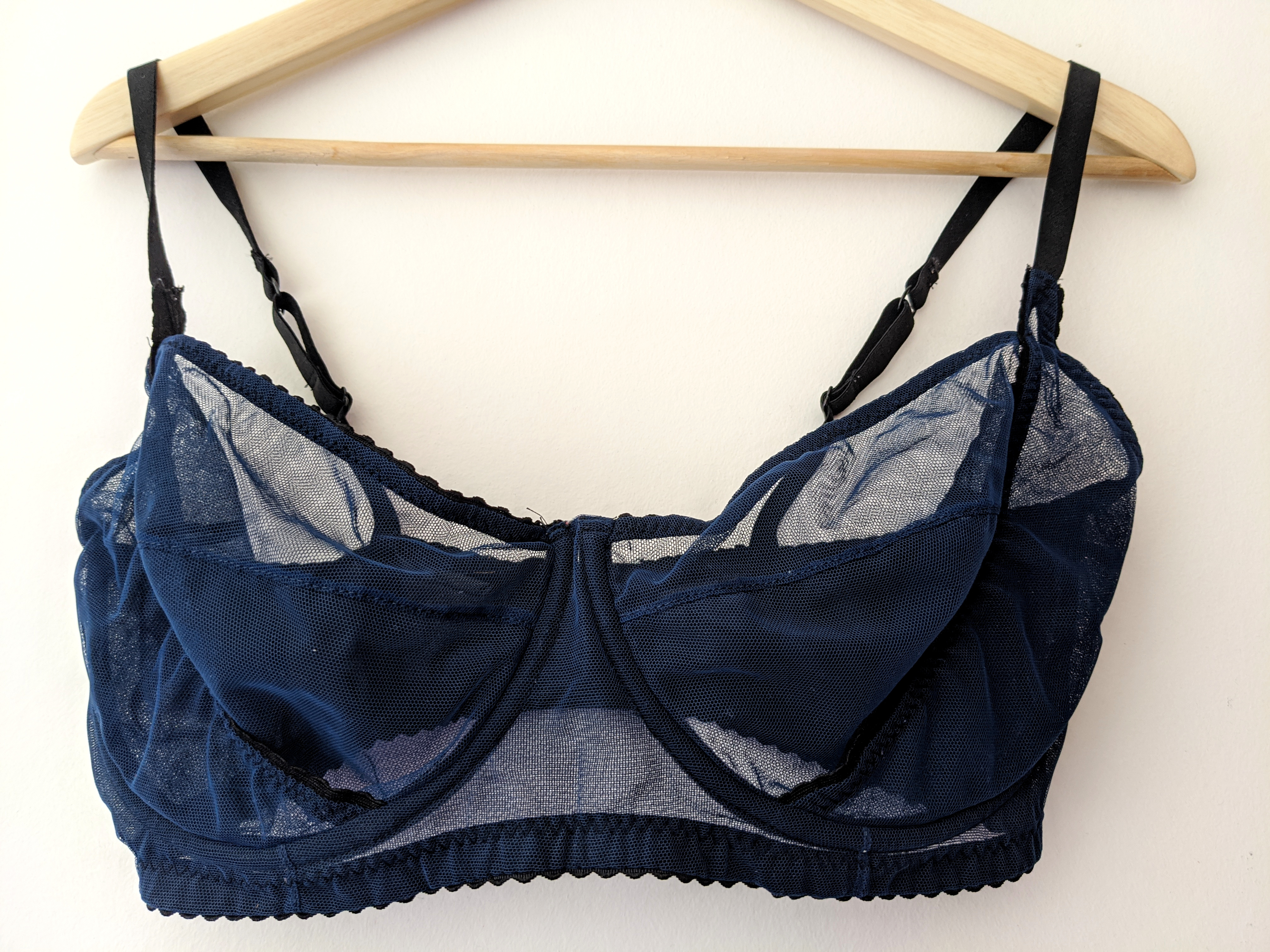 I don't know if it's the same for you, but going lingerie shopping has always been a huge pain for me. I am (fortunately or unfortunately, I don't know) considered as being part of the "bigger sizes". And as such, I really struggle to find anything that fits AND that I like.
I did not really have a choice in terms of shape… I had to go for underwired bras (because soft bras unavailable in my size), I could not go for foamed line bras (because all push-ups and I don't want to have my girls attacking my face all day) and I had to renounce pretty lacy bras because again, only available for the smaller sizes. It only left me with black, white and beige bras…
And I have to say, I grew tired of this. It's not because you have a bigger size that you do not get to wear pretty bras, soft bras or nice lace bras!
And after this beautiful story of how I fell into lingerie sewing, on to the actual subject: the Black Beauty Bra.
The black beauty bra, from Emerald Erin
(blue bra + black beauty bra = blue beauty)(you got it?!)(I know, I need to work on my puns…)
Black Beauty is a pattern from Emerald Erin (only available in English). It's an underwired, 2 cup pieces bra pattern, and it has an outside powerbar. A powerbar can be integrated to the cup or lie on top of the cup, as it's the case here. It brings more lift to the cup and project the tissue forward.
I really admire Erin and her work. Her projects are a real source of inspiration, and I can only encourage you to go check it out. She gives so many ideas as to how you can alter a pattern to give life to any design.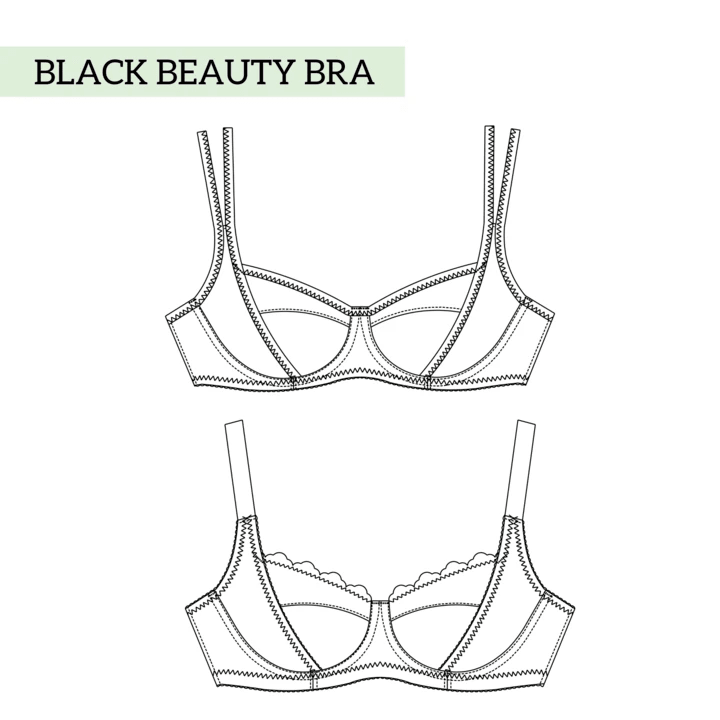 My final version
Sizing
Well I won't lie, I made a muslin. I've had enough bad experiences with lingerie sewing to know a muslin is mandatory when sewing a new pattern.
I chose my size according to the sizing table (32F) but the cups were way too small.
I don't know if I failed taking my measurements (highly possible), but anyway, I ended up making the size 32G and it was perfect.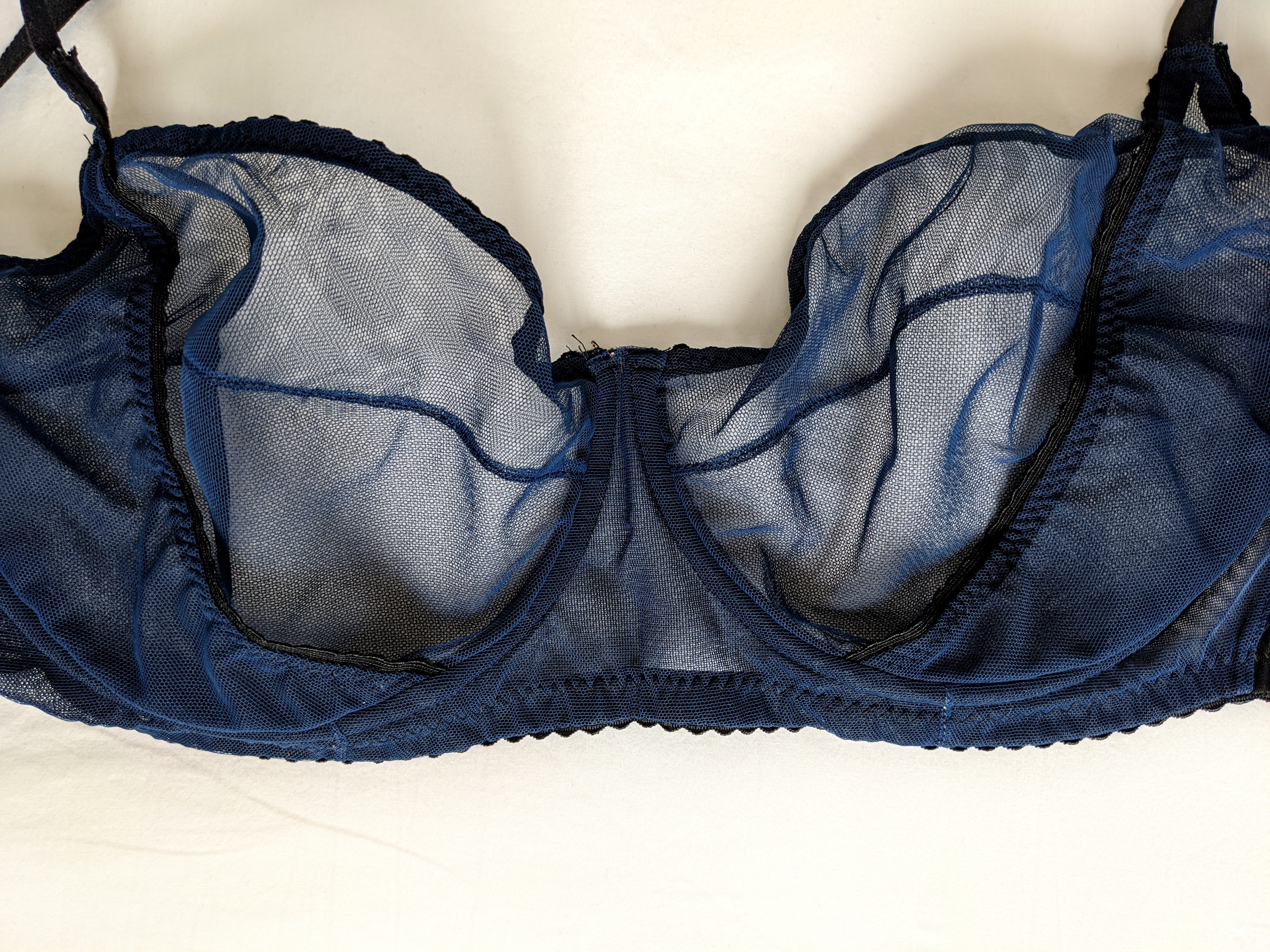 Materials
As to the fabrics, I used:
"extra soft" blue tulle from Stragier for the outer cups, the powerbar and the cradle
black tulle from Emerald Erin's shop to line the cups and the powerbar
black sheer cup lining to line the cradle from I don't remember where
black powernet for the back band.
Because the tulle has a bit of mechanical give, and I don't want my cups to be stretchy so they can be as supportive as possible, the 2 layers of tulle are cut criss-cross to cancel out the give of each layer.
I used notions and trimmings from my stash, but I cannot say for sure where everything comes from…
The black rings and sliders have been salvaged from an old RTW bra and the underwires come from Erin's shop: they're the Orange underwires, size 46.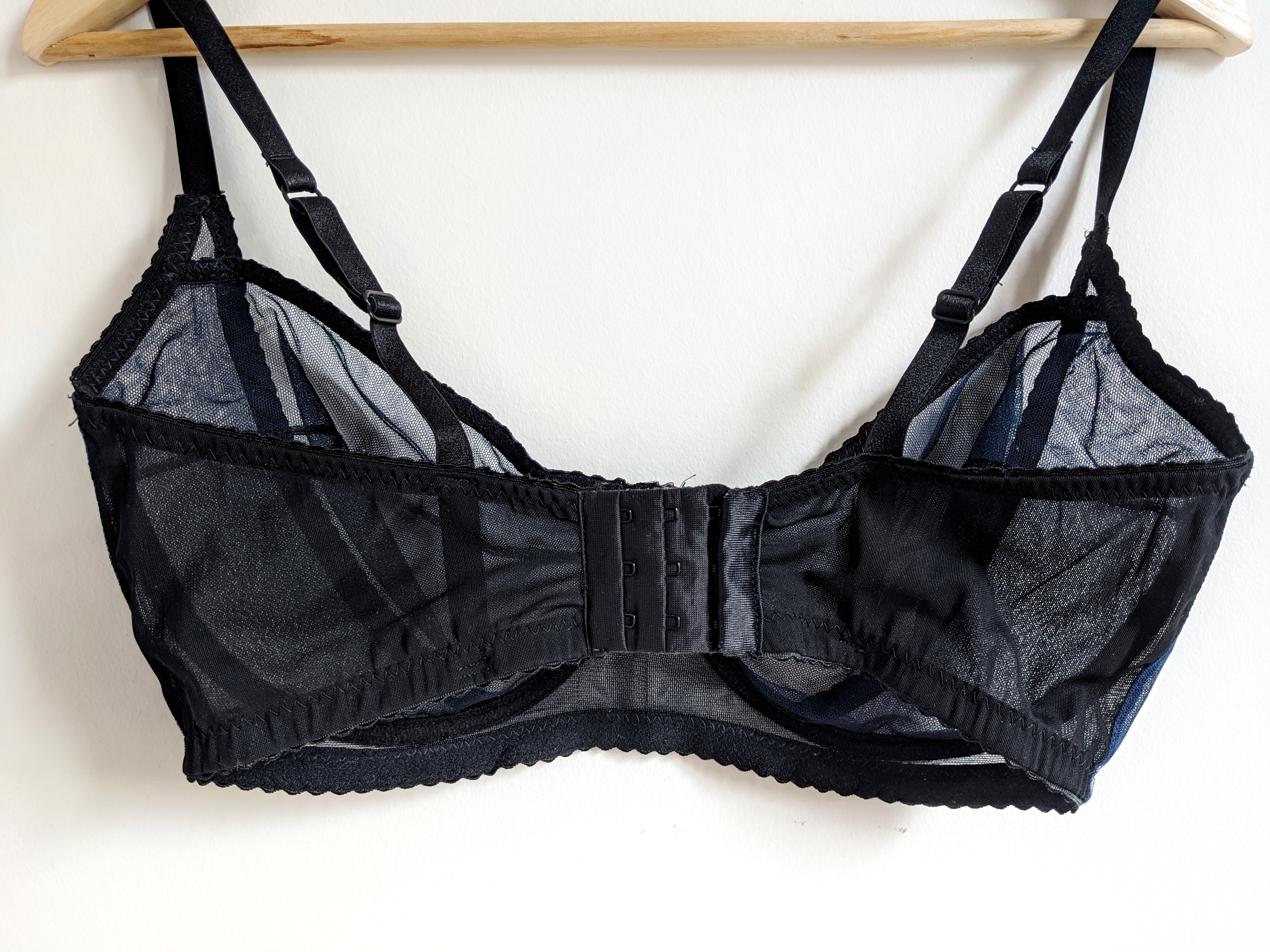 Adjustments
I changed 2 things on the pattern:
I widened the bridge by 1 cm
I added sewing allowances to the top edge of the cups, to accommodate elastics instead of FOE elastics (which is what the pattern calls for).
The only other modifications I made is that I didn't follow exactly the instructions… Mainly because I already made a few bras, and because I prefer Cloth Habit's way in the Harriet Bra pattern, because at the end you have enclosed seams everywhere. I find it cleaner and easier like this, but that's only a matter of personal preference.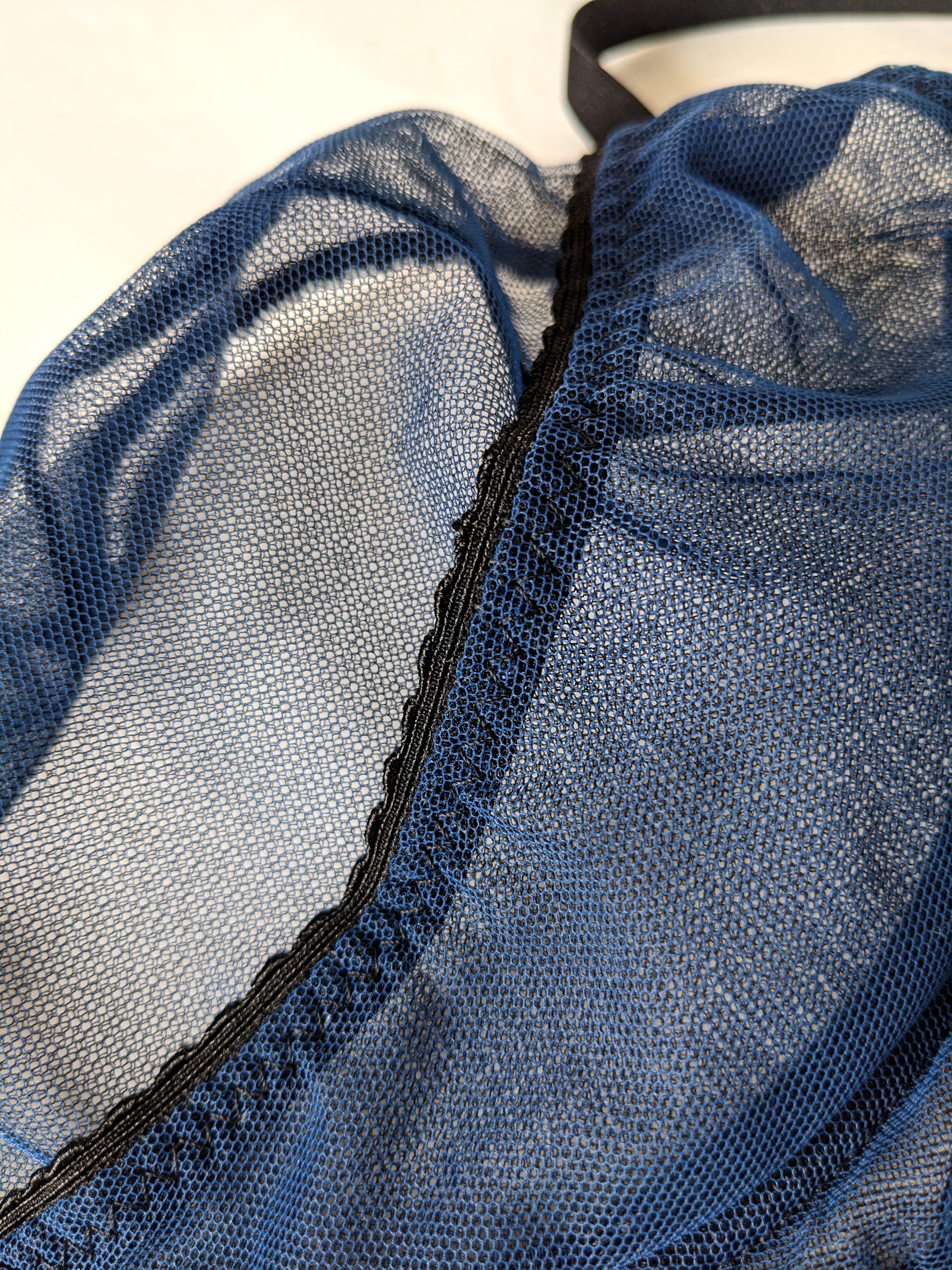 Finished result
I love this pattern. Really. It's classical and original (especially wit the separate powerbar), and it's really supportive. I think it's going to become a pattern staple for me.
The only thing, is that the straps are bit too long for me. Next time I'll remove around 6 or 7 cm and it should be OK.
I feel like this pattern can be a great foundation for experiments and alteration…