What better way to start this sew along by talking about the first step in any sewing project: the pattern. This step is really important because it will allow you to know what materials and notions you need to gather.
Choosing a patterns
There are sooooo many patterns out there this day… The hardest part is to only chose one!
I would advise you to start with something close to the shape you like to wear:
a foam compatible pattern?
or a plunge pattern?
a classical, day-wear bra pattern maybe? It's totally up to you.
As I said, the pattern you choose will help you define the fabrics and notions you need to get.
I'll focus here on wired bras, but it's the same thing for bralettes. I often get asked questions like 'I love this bralette pattern, can I sew it with foam cups?' Cut and sew foam is not a stretch fabric, so if the bralette is designed to have stretch cups, you're going to be surprised with the result… and end up with a bra that's too small. I'm not saying it's impossible to make such alterations. I'm just saying that to start lingerie sewing, I would advise to choose a pattern, follow the instructions and the materials recommendations, and try and do massive alterations later on, once you get the hang of it. That's why choosing a pattern that fits the bill from the start is important.
One thing that you need to take into account when choosing the pattern though is the available sizes. Some patterns offer a wide range of band and cup sizes, and some don't. Checking beforehand will allow you to avoid some disappointment, and prevent you from buying a pattern that doesn't cover your size… I know it, 'cause I always check the sizes first, and it's often the case that I can't buy a pattern because my cup size is too big.
Brands often tells you how to take your measurements, so that you can compare them to the grading chart. Please please please, measure yourself, and do not assume your size from your rtw bras! It's the same than for garment sewing, but it's also valid for lingerie. There are different system to grade bra patterns (the BCD system, and the more classical underbust/full bust difference) and they give out different sizes, making any comparison with your rtw size completely irrelevant. So I repeat, take your measurements, use them and do not assume your size from rtw.
OK, so now that this is out of the way, here is a small list of brands by language (it's not exhaustive, it would be impossible for me to build such a list), so don't hesitate to go and have a look.
Fench brands
Anglo-saxon brands
Materials
It's time for a new disclaimer! I'm going to talk about the fabrics that are often used to sew wired bras. But it's possible that your pattern won't use all of them. Trust your pattern, try and experiment, and make up your own opinions. This list is base on my personal experience, and I still learn stuff about lingerie sewing today. I'm far from knowing everything there is to know. And what works for me might no work for you, and vice versa. So take this section as a set of suggestions, that you choose to follow or not.
Fabrics
Some bra concepts…
Before diving into a lingerie fabrics study, I think it's important to lay out some concepts about bra construction so that you can understand better what comes next.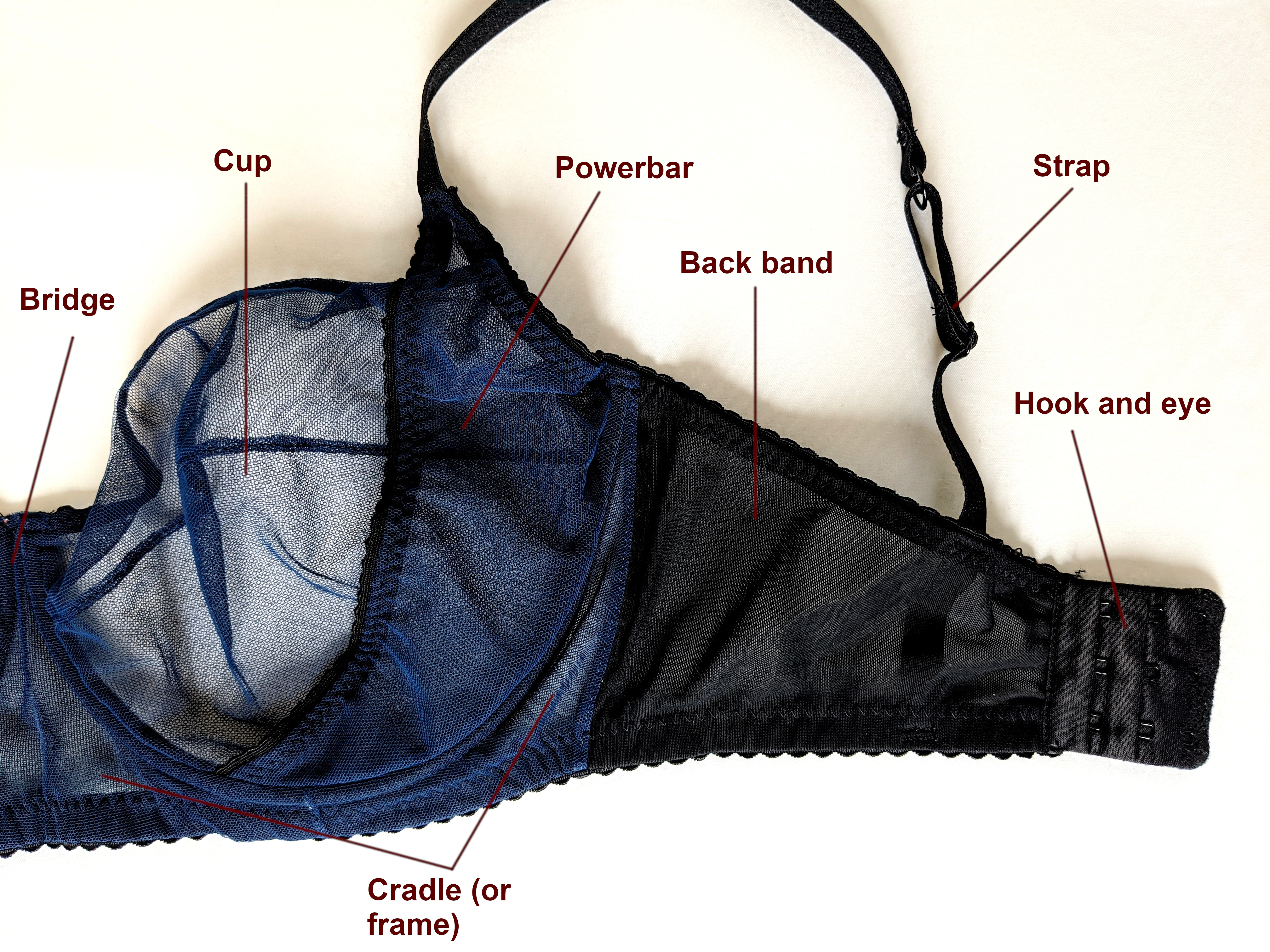 There are several parts in a bra, and each has specific properties, so that they can fulfill their specific role. There are the cups, the bridge, the cradle (or frame), the back band.
The back band is supposed to be stretchy: it has some negative ease built in to hug you and support you. But the front of the bra is supposed to be stable, and do not stretch. It might surprise you, but when you think about it, it makes sense: the cups are supposed to lift, shape and support your breast. If the fabric is stretchy, the breasts will hold a more natural shape and will tend to fall. But it's not always the case: some bras have stretchy cups, but they offer less support, and a more relaxed fit. Having said that, note that the cradle is never ever stretchy.
Powernet
Powernet is one of the most important fabrics. It's a stretch fabrics, with small rectangle holes in its structure. it has a high percentage of lycra/spandex. It has a great recovery. You can find it in different strengths: light, medium, strong.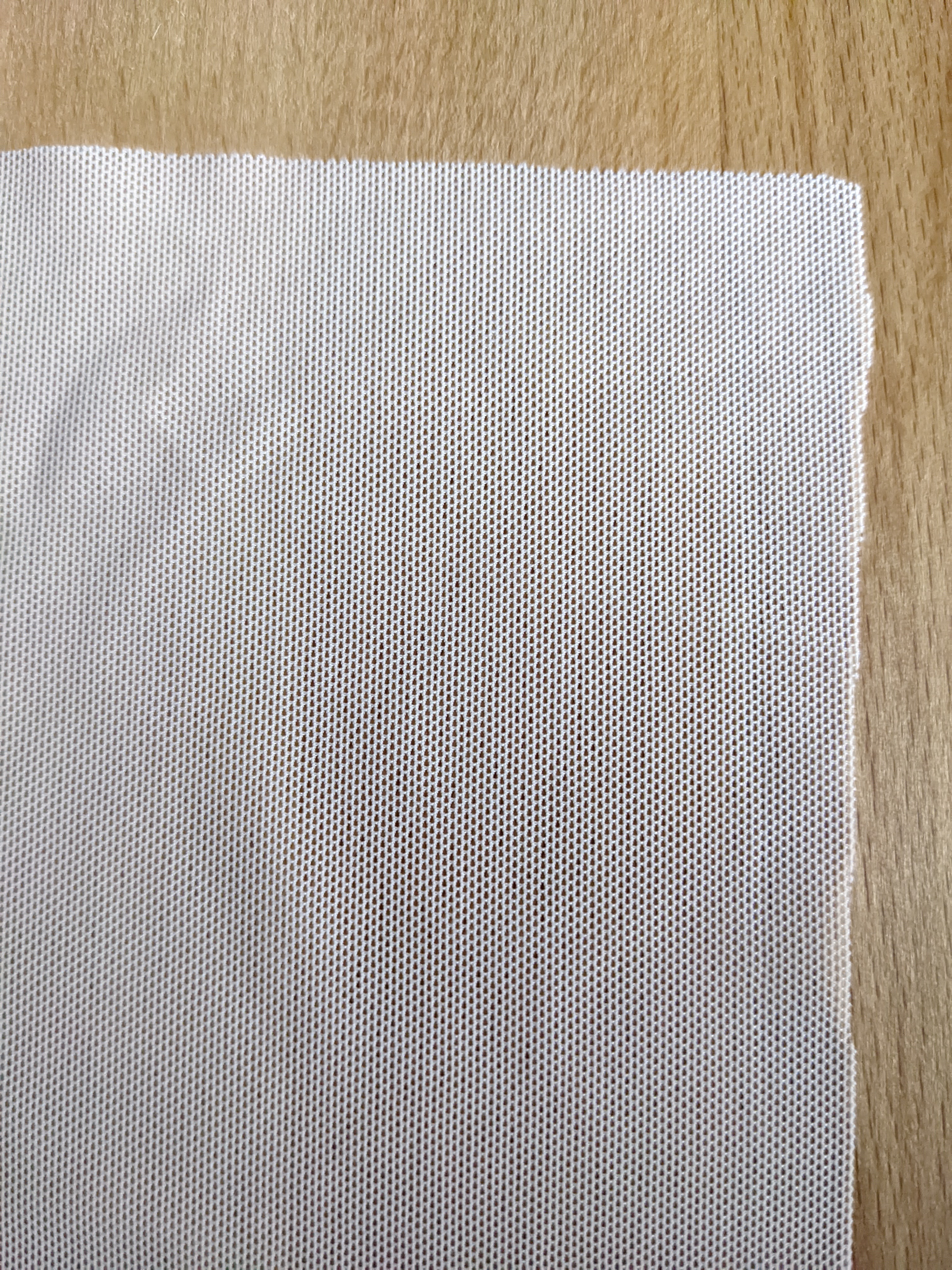 This fabric is used for the back band, where the straps and the back closure will be attached. I read somewhere that 80% of a bra support comes from the band. So now you get a grasp of the amount of responsibility it has to deal with!
For smaller sizes, or people who don't need a lot of support, it can be swapped with another fabric with great recovery and a strong hand (but always check with the instructions, a stretch percentage might be required for your pattern). For larger sizes, or people who want more support, it can be used in a double layer.
Powermesh, stretch mesh, stretch tulle
Yeh yeah, I know that's where it gets confusing… Powermesh and powernet are not the same thing!
I'm talking here about powermesh, stretch mesh and stretch tulle because they have more or less the same properties and you can use them for the same things. They are, like powernet, stretch fabrics, with a relatively high percentage of lycra/spandex. But they are less strong, and have less recovery properties.
This fabrics is often used in bralette projects (as a lining and/or exterior fabrics) or panties or bodysuits, but you could use it for a wired bra. Having said that, I wouldn't recommend using it on its own for the back band (unless you have a small size or don't want much support). But you can always layer it on top of powernet.
Foam
You have 2 types of foam
cut and sew foam : it's a sheet of foam, covered by a fine microfiber on both sides, soft against the skin.
molded foam cups
I have no experience with molded cups, but from what I understood, it's quite tricky because you have to choos the right size and a shape that compatible with your pattern for it to work correctly.
As for cut & sew foam, it's a stable fabric that you can use to line the cups of some bras.
Marquisette, or sheer cup lining
Sheer cup lining is a lingerie specific fabric. It's stable, and doesn't have any mechanical give. It looks like tulle, but if you look closely, you'll notice the weave is square. This fabric is used to line the cradle.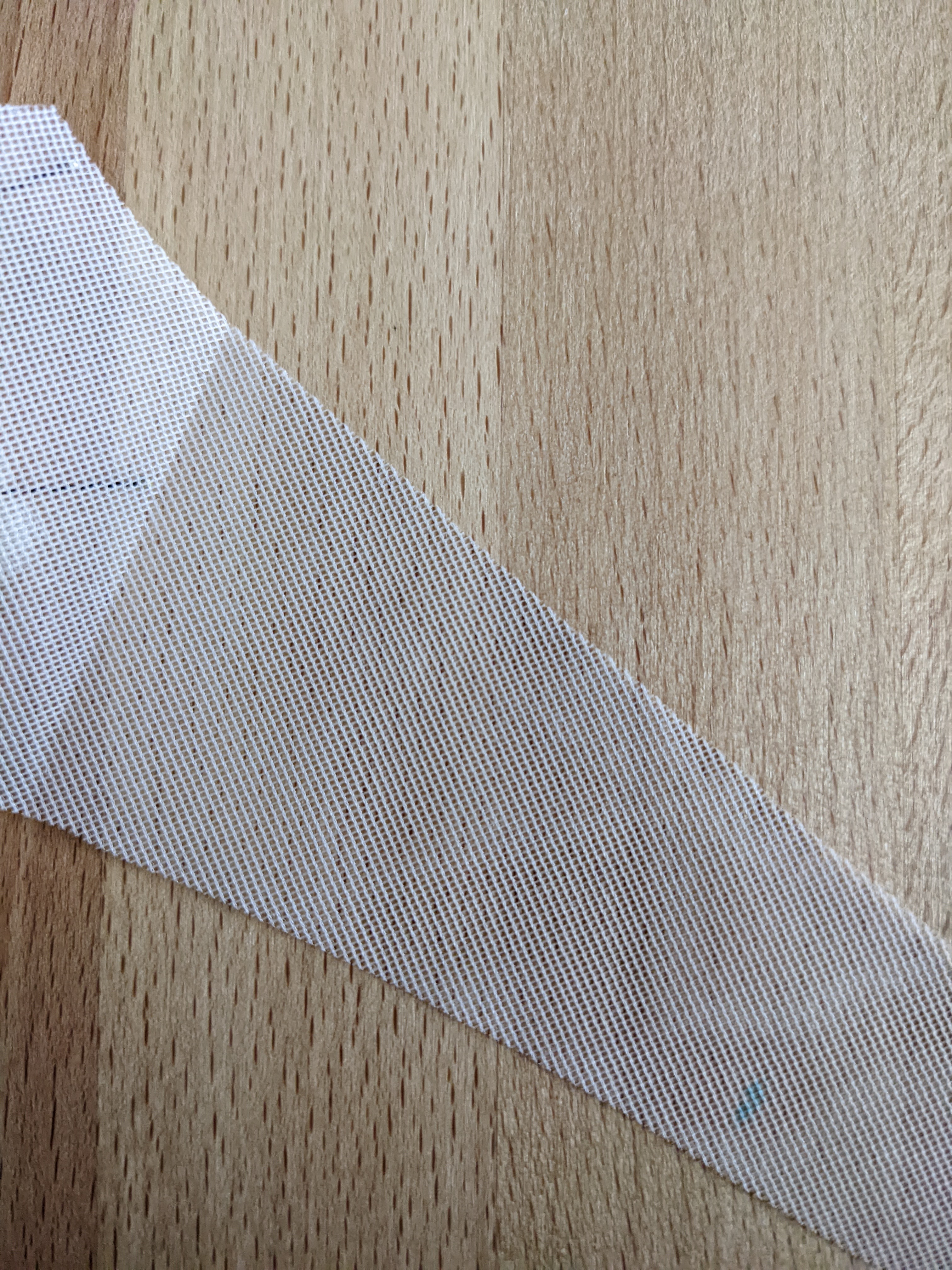 You can also use it to line the cups (or just the bottom cup) for bigger sizes. Personally, that's not the fabric I like most for that. I think the shape it gives is less smooth, more angular, even if clearly, it offers great support. But once again, that's a matter of personal opinions.
Bra tulle
Bra tulle is a non stretch fabric, with mechanical give. It has an hexagonal weave.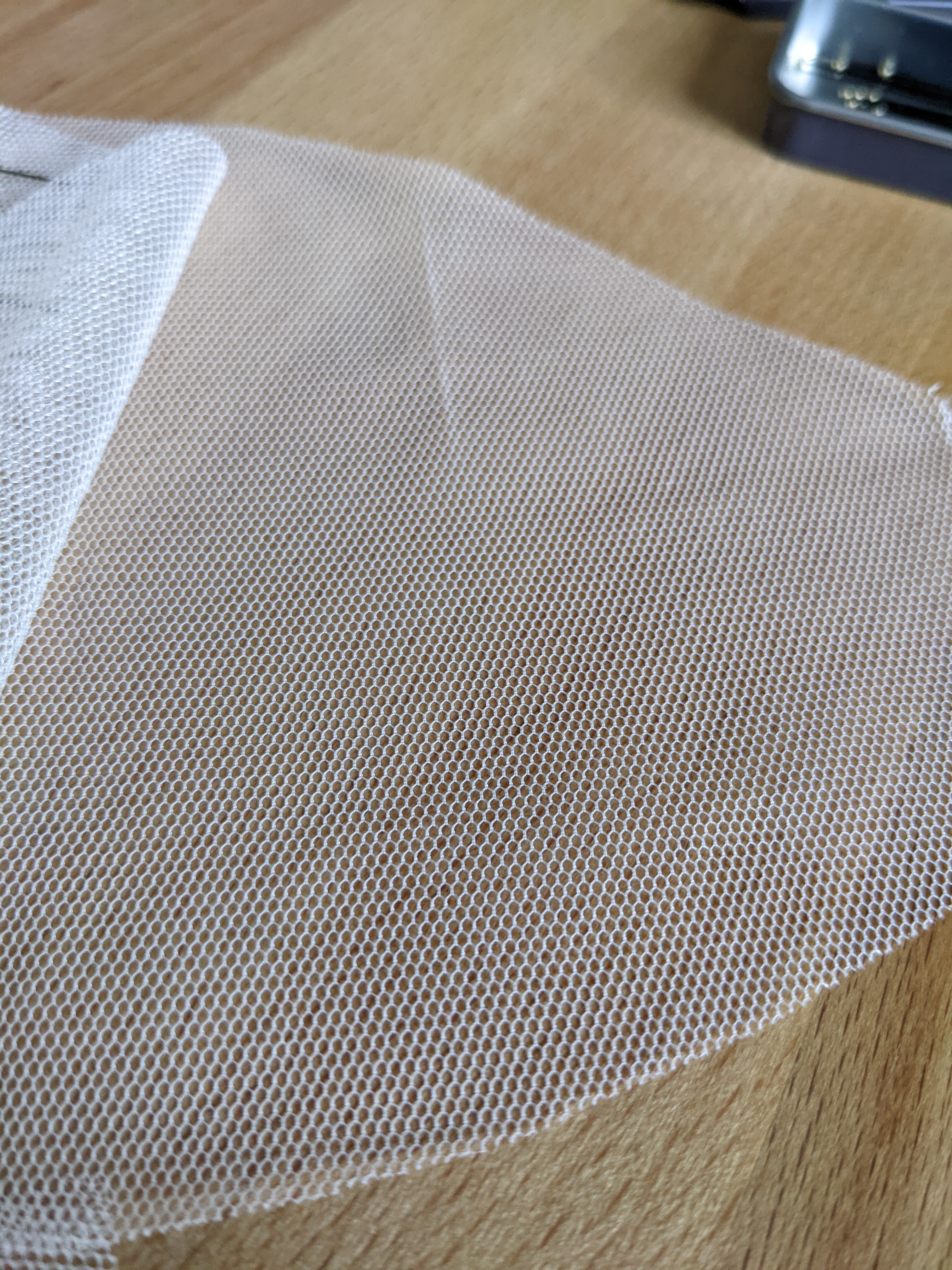 It's really soft against the skin. It can be used on its own, or as lining for the cups (it's perfect underneath laces to keep everything sheer).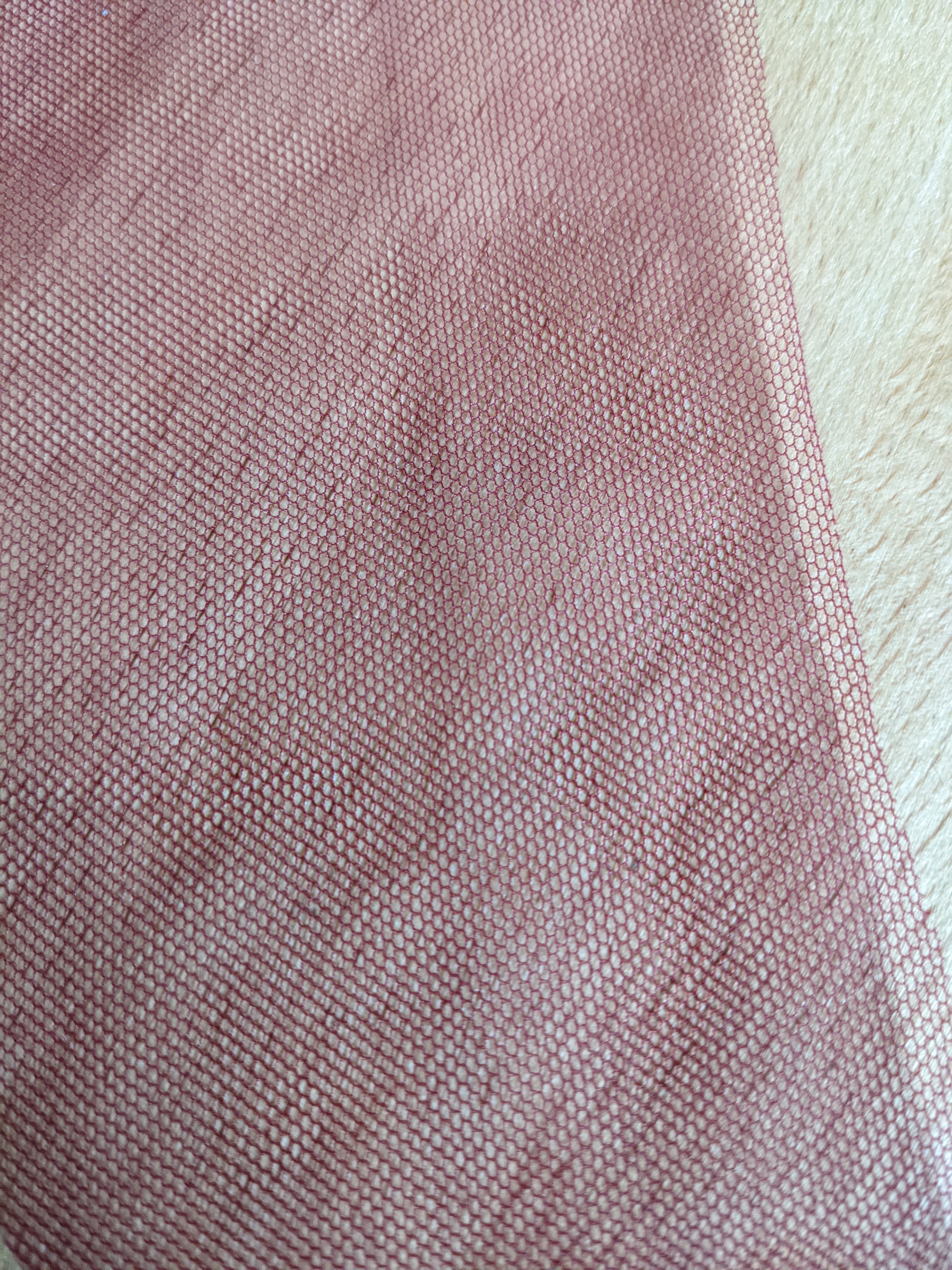 If you use it as cup lining, you can use it in a double layer, both layer being cut in opposite direction. it will counteract the stretch and give you a stable result. It's my favorite fabric to line cups.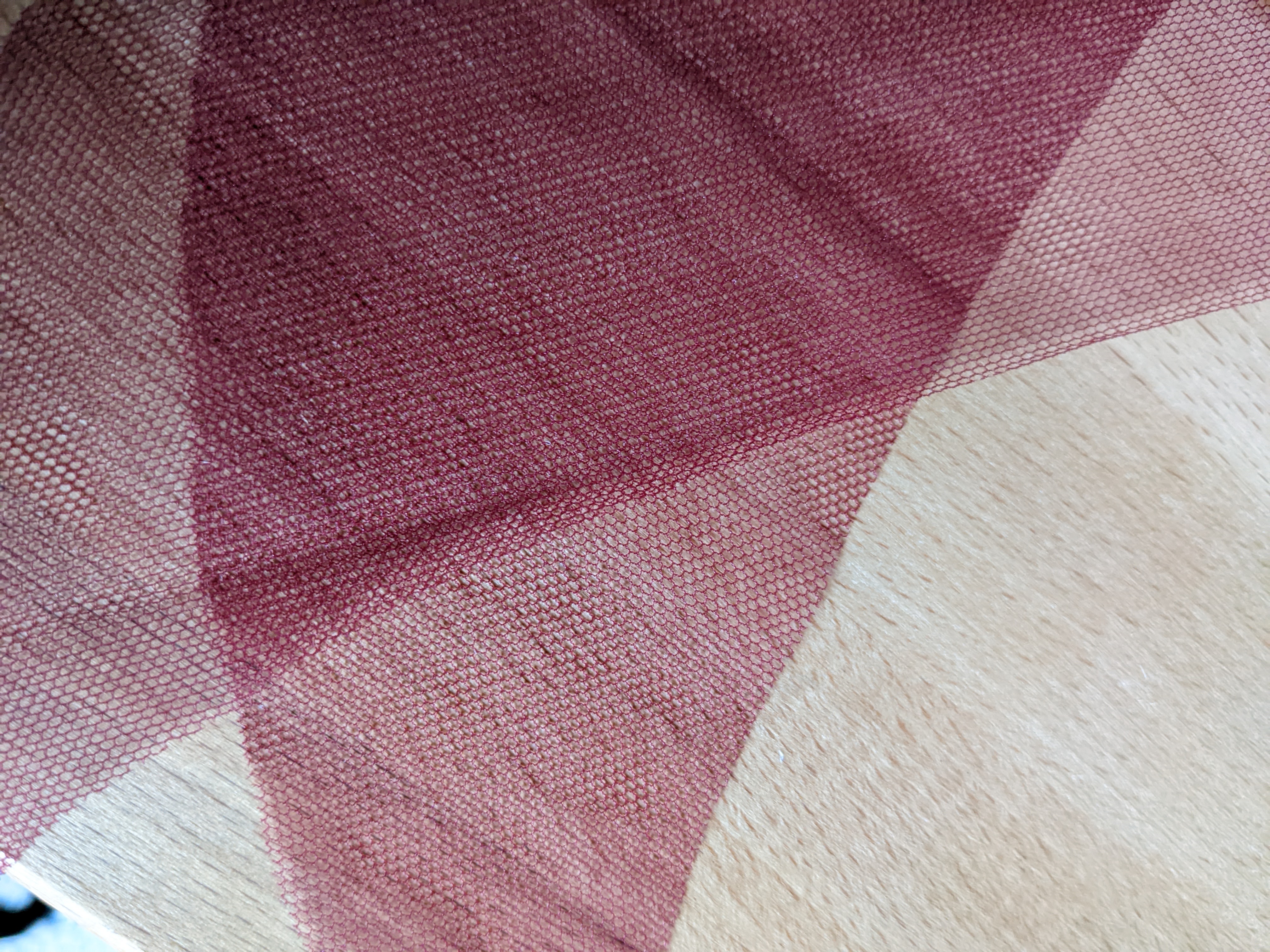 Lycra, stretch lace and stretch fabrics
In this category, I'm talking about all kinds of stretch fabrics, should they be lingerie specific or not: lycra, stretch lace, jersey, scuba, stretch satin,… All these fabrics can be used as exterior fabrics: they won't do anything in terms of support or else, but they will be visible. The fabrics you use use linings will fulfill the support roles (sheer cup lining, tulle, powernet). The stretch fabric will only make it look pretty.
Stretch fabrics can be used in a double layer with the powernet for the back band, provided that they have enough elasticity.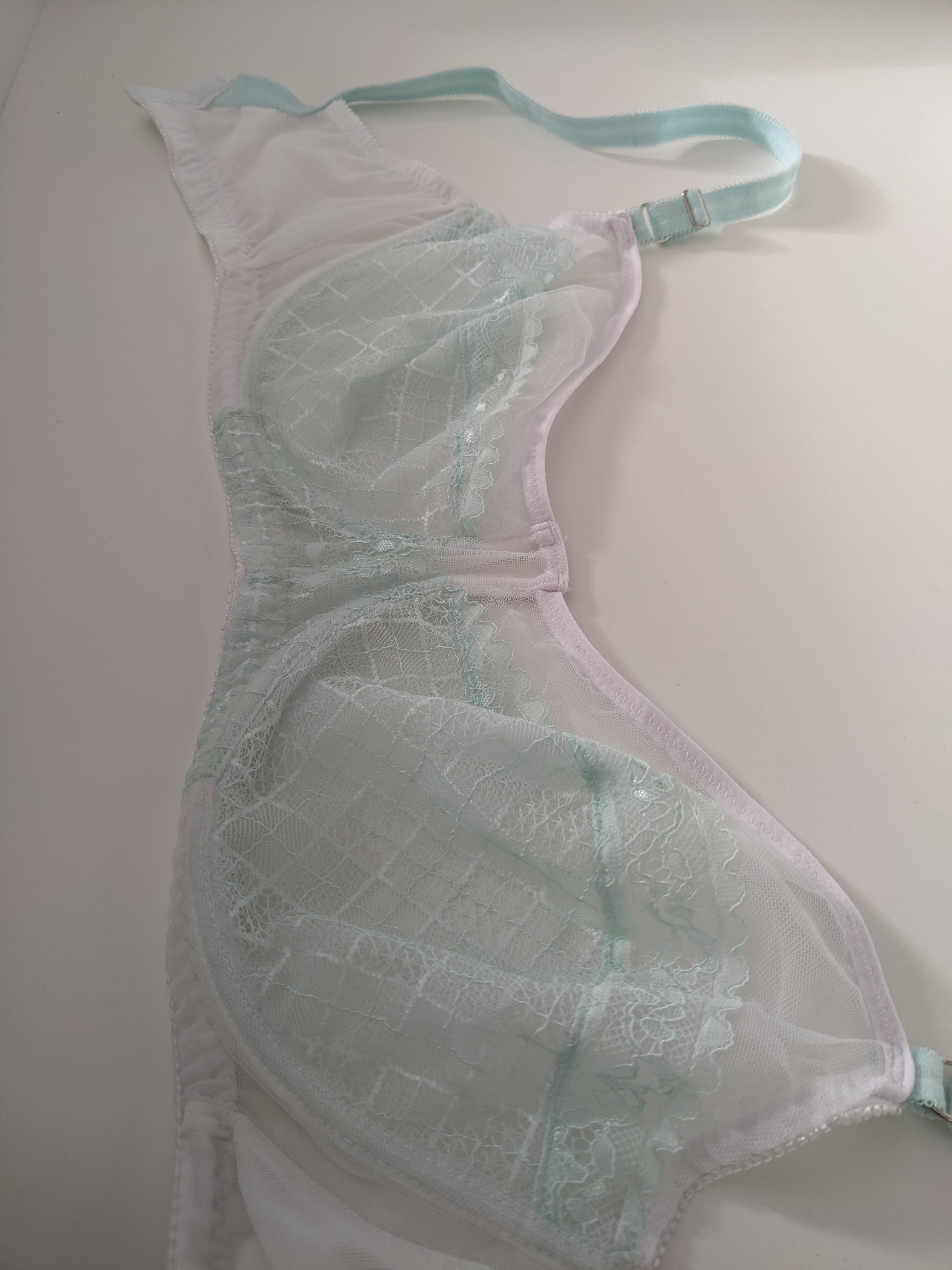 The bra pictured above has its cups lined with a double layer of white bra tulle. The mint stretch lace is only here for decoration.
Using a stretch fabric as a visible layer is completely optional. You can totally decide to make a bra without it, like this blue and black bra below.
Woven, non stretch fabrics (silk, cotton, stable lace, embroidered tulle, …)
In this category, I'm talking about all stable fabrics, the ones that got no stretch, except maybe mechanical give in the bias. Like stretch fabrics, they can be used as exterior fabrics. The only difference is that you can only use them for parts that are supposed to stay stable: the cups and the frame. You cannot use a stable fabric on top on the powernet for the back, or you'll end up with a bra you cannot close.
However, some bras are designed specifically for stable fabrics, and also for the back band, but it will be specified in your instructions booklet.
Elastics and notions
Underarm and underband elastics
The elastics used to make a bra are a bit less stretchy than the ones you use for panties. There are several sorts: picot elastics, fold-over, flat elastics,… They all have a soft, plush side (some are event soft on both sides) that should lay against your skin.
Follow the instructions of your pattern: the quantities and their width will be given. And when you buy them, make sure you search for bra elastics specifically.
Strap elastics
Bra straps are supposed to handle 20% of the support. These elastics are specif designed for straps. They are soft on one side, and come with various stretch percentages.
The most important thing here is the width. A wider elastic will offer more support, will last longer and will be less painful, especially for bigger sizes.
Once again, follow the instructions of your booklet: the quantities and width will be indicated. And most of the times, the required width is not the same depending on the size: it gets wider when you go up in size.
Also, get to know your preferences. Personally, I know that I find straps finer than 12mm uncomfortable and painful, and I prefer 15mm straps. But well… I know this because I tried it out.
Underwires
Wires are an important component in a bra. And wire size is a sensitive topic. A wrong size in underwires can result in a bra you simply cannot wear. There are different sizes and shapes of wires. I suggest that you start by looking at the pattern recommendations. A wire size will be suggested, and sometimes even a specific model sold in a specific store. Use the size chart and your measurements to find out what is supposed to be your wire size,. Once you have that size, go the suggested online store and by the wires in different sizes. It may sound odd, but I strongly insist on that: if the size chart says your wire size is 38, take at least a pair in 36 and 40 to make sure you find the right one for you. Some stores offer fitting packs, so that you can find the perfect wire size for you.
It's really complicated to know if an underwire will fit you without having it in your hand. Ordering a small sample will allow you to try different sizes at home and find the right one.
And once you found it, you're golden, and you can use it as a reference. Same as bra sizes, wire sizes vary from one vendor to another, but they often have a wire chart. You can then simply hold your wire on top of this chart to find the equivalent for your wire in this particular shop. Without getting it wrong.
Hook and eyes, rings and sliders
Hook and eyes are used to actually close the bra. They are often attached to the back and, and they come in different sizes.
Rings and sliders are used to make the straps adjustable. They must be the same width than the strap elastic.
Online stores
Milena from Eclipse Lingerie wrote an article about online lingerie stores (but it's in French).
French stores:
Europe based stores:
North-America based stores:
Additional resources
Marie Poisson wrote a series of articles about lingerie sewing, lingerie fabrics and especially lining (in French).
Milena from Eclipse lingerie also published a guide to lingerie fabrics(also in French).
Emerald Erin also has different articles about fabrics and one that compares different lining fabrics.
Cloth Habit has a lot of instructive articles on her blog.