I looooove sewing bras. (You don't say?!) I know, it's no secret. But I wish I could say the same about panties… but I find it boring. But I still need panties in my life (I know I could live without them, I know some people do)(but that's not the life I want to live)(I'm putting an end to that debate now). And I love lingerie sets. So I've decided to sew a pair of panties each time I sew a bra. And I'm forbidding myself from wearing the bra until the undies are sewn (because I'm lazy and I would otherwise begin wearing the bra and would never sew the matching undies). It may seem a bit extreme but it works for me.
For this set, I had a particular idea in mind: I wanted to upcycle an old silk pajama top that was lying, forgotten, at the bottom of my pj drawer.
---
Black Beauty Bra + Ava panties
Well. You know me. I'm loyal. I'm going to declare my never ending love to the Black Beauty bra pattern (once again)(yes, I have to)(previous episodes of this love story available here and here). This pattern from Emerald Erin is my absolute staple, and has become my base for pattern alteration.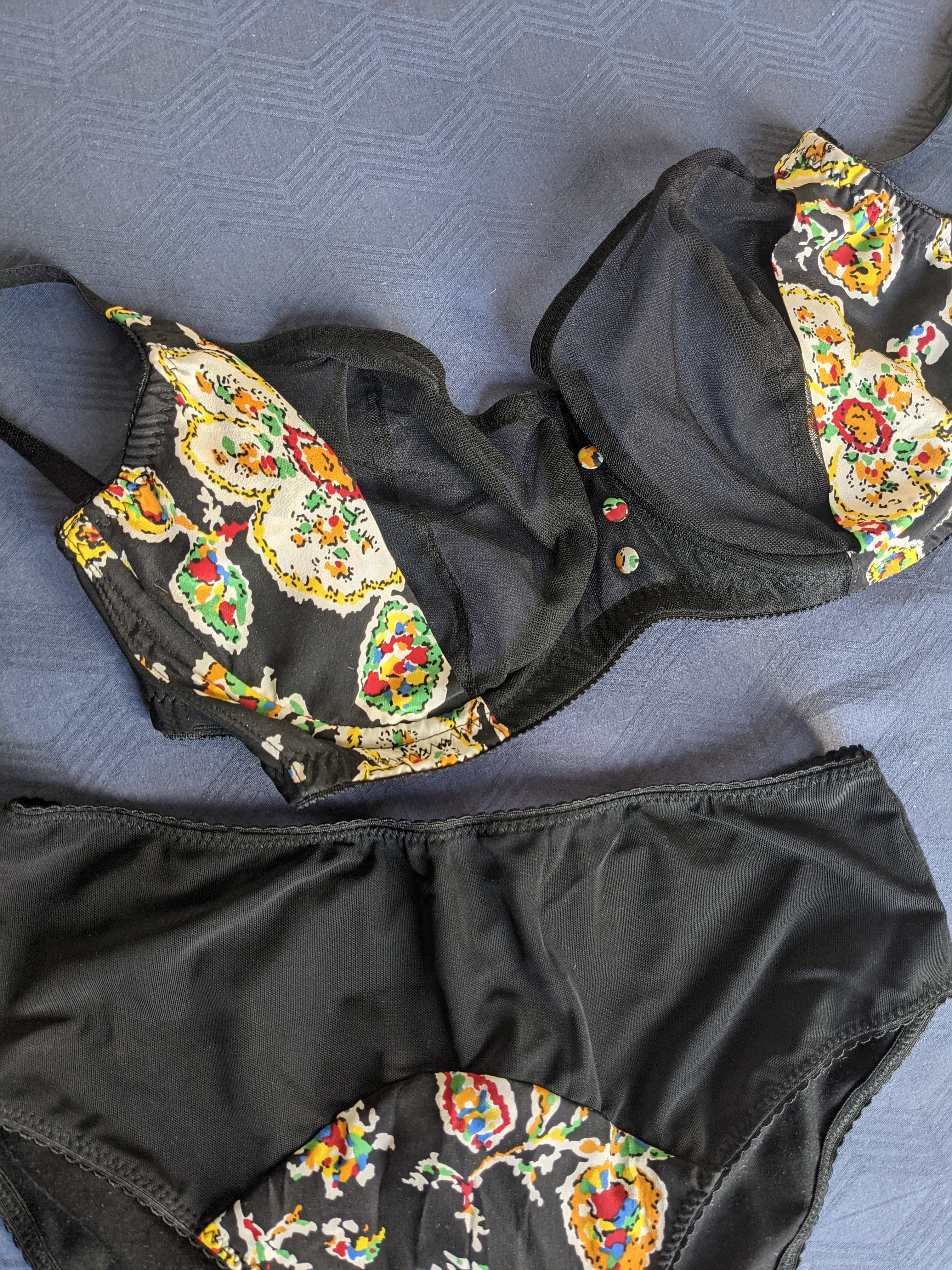 For the undies, I wanted something high-waisted, but not too much, and with a high cut on the leg openings, but not too high. And I didn't want to buy a pattern, I wanted to do it with the patterns I already owned. So I went for the Ava panties from Ohh Lulu, which is a good base.
To be honest, I was really inspired by a stunning bra made by Queen of Suburbia, a Canadian RTW lingerie brand. THIS is what I call craftsmanship. Megan does really make beautiful lingerie, every item she produces is more beautiful than the next. She even launched a bra pattern.
What I really liked about the bra that inspired me is the contrast between the powerbar, matching the band layout, and the middle of the band and the cups being sheer.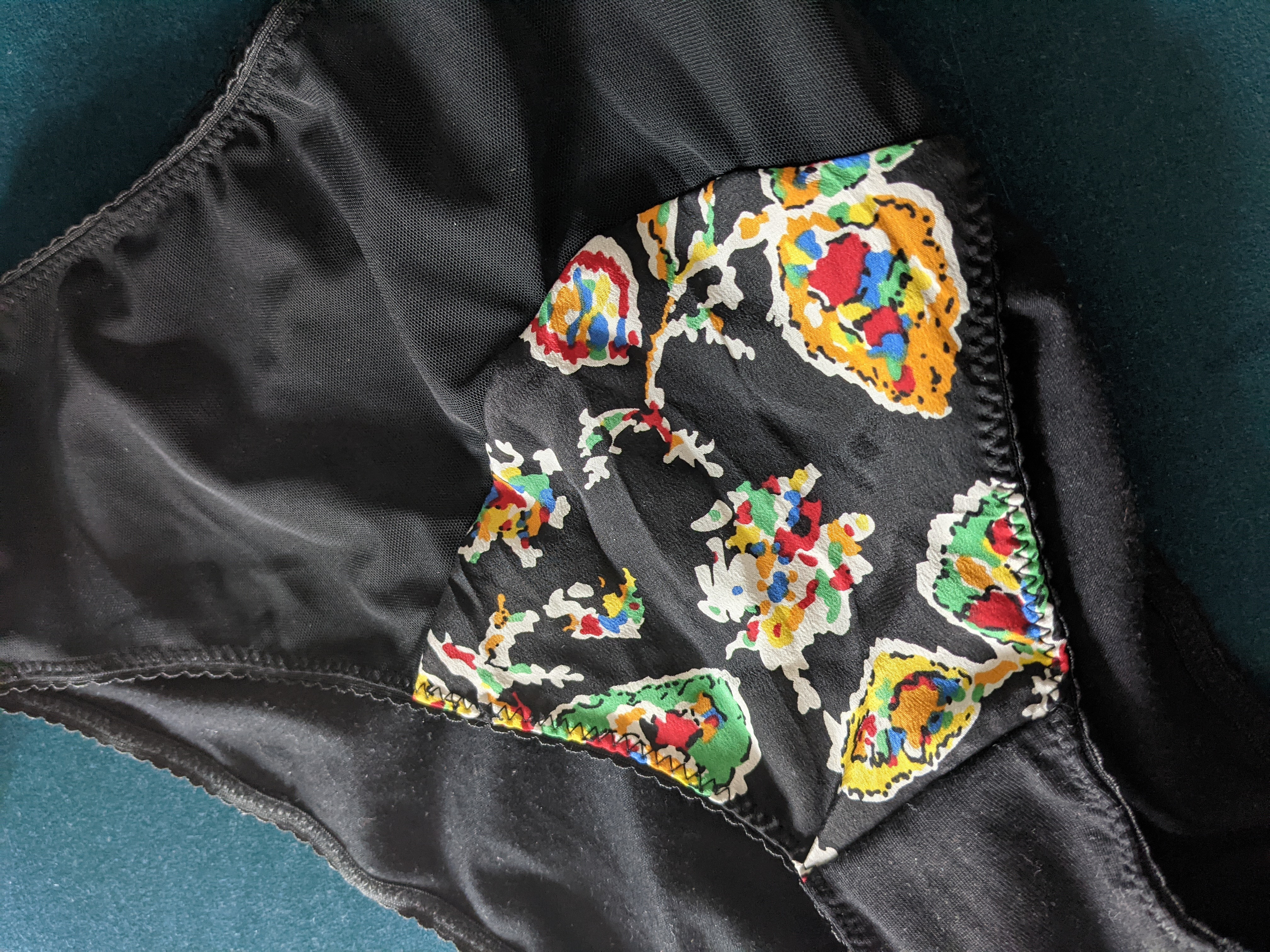 For the undies, I had a rough shape in mind, but I knew I wanted to match the bra in terms of fabrics, and sheer/flowery silk contrast but I had no more precise idea. I decided to go with the flow, and let my brain work on it as a background task will whipping up the bra.
My version
Sizing and alterations
Well, I'm not gonna lie. There were alterations. Lots of it. But waiiiit, don't leave. It was not that complicated, I'll explain everything to you.
The bra
For the bra I knew precisely what I wanted: flowery silk powerbars, black sheer cups with a vertical seam and an opaque, black back band.
I converted the initial cup seam from horizontal to vertical. It can seem complicated, but it's just about redistributing the volume of the cups. You can find tons of resources on the Internet to make this alteration. Just give it a go!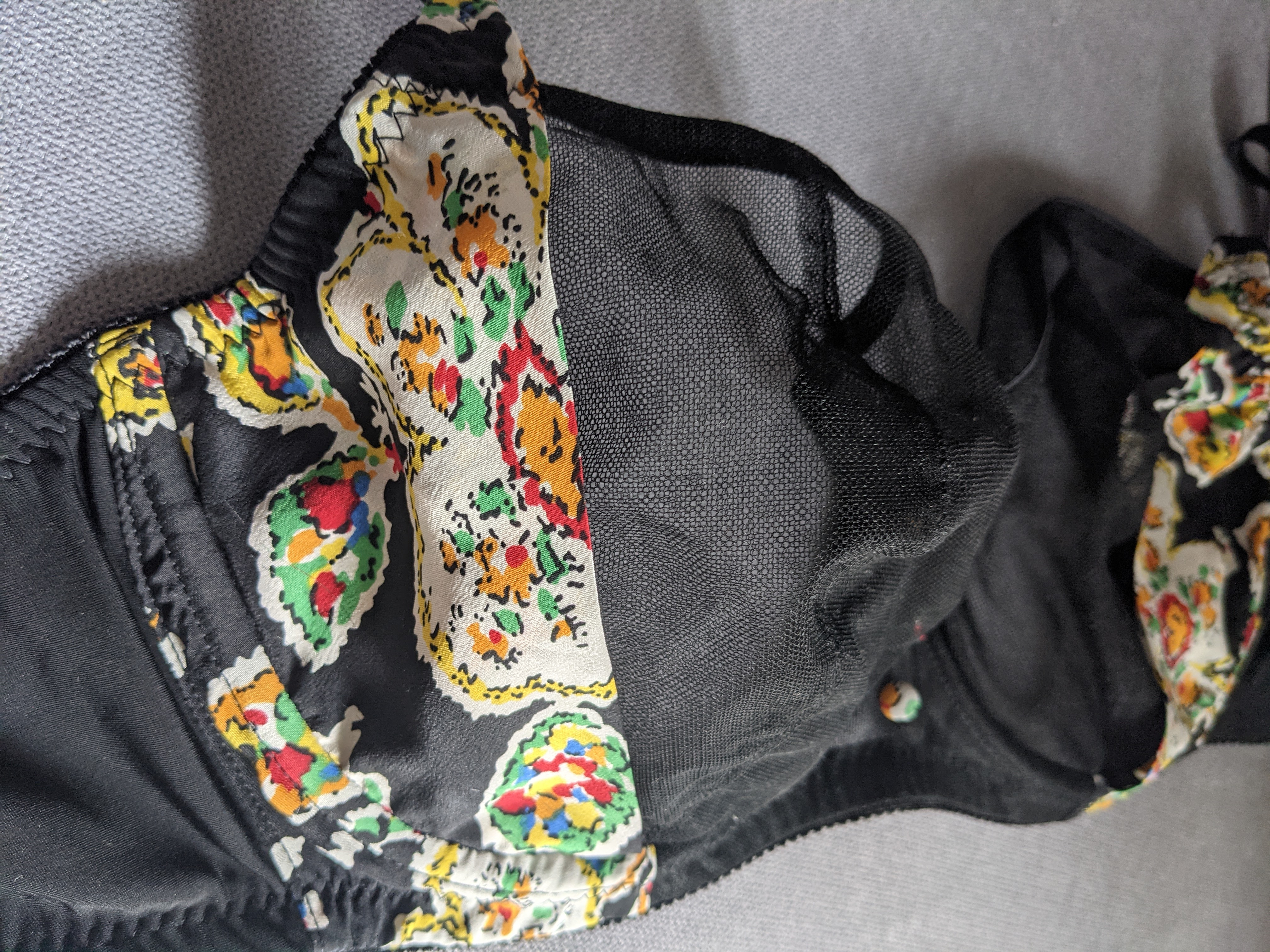 I made a muslin after this alteration, just to be sure, and it was perfect. I was really surprised at how easy it had been, and the result was perfect without any major effort.
I also wanted the powerbar to join the band exactly where the seam between the 2 band pieces is. So I removed a teeny tiny bit of the powerbar so that it matched exactly that seam.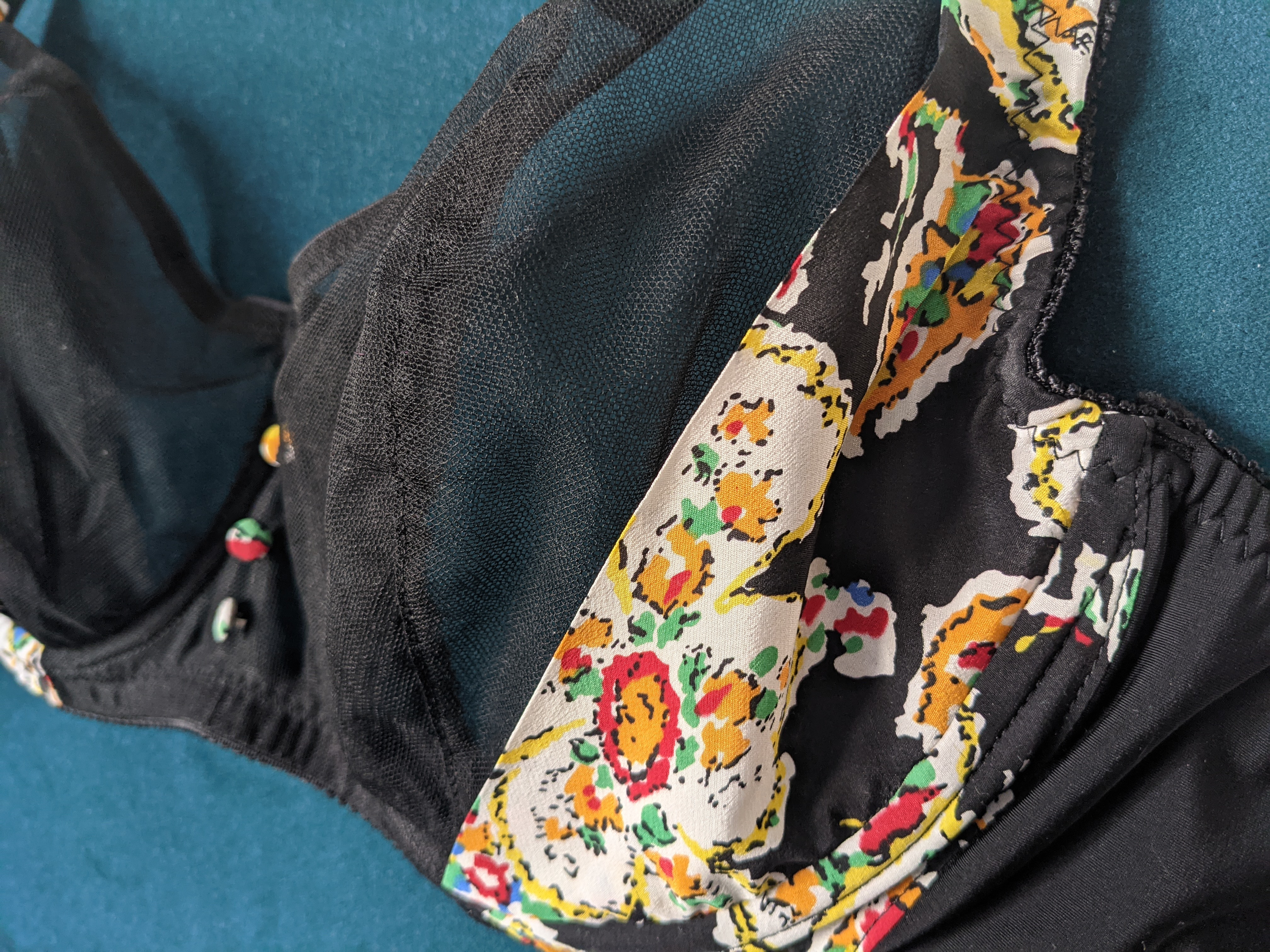 Normally, the powerbar is cut in a single layer of fabric, and finished by a lingerie elastic (picots or fold-over). But I didn't want that. I didn't want to cut my silk in a single layer (the fabric was really slippery, hard to handle and fragile) and finish it with elastic. I don't know, it seemed visually too heavy for me. So I decided to do just like the inspiration picture and cut the powerbars on fold.
After that, I made my usual alterations, on a 32G size:
widened the bridge by 1cm,
removed 8cm from the straps length,
added seam allowance to accommodate for lingerie elastics at the top of the cups (instead of fold-over elastic).
Panties
As I said, I had no precise idea for these. I wanted to keep the contrast, make some sort of mix between a sheer panel and a silk cutout to match the bra. I also wanted the back to not be sheer, and to be in cotton jersey for comfort. In other words: I wanted something kind of sexy without sacrificing comfort.
After thinking about it, I decided to keep the back simple (plain old black cotton jersey) and to create a round cutout on the front: flowery silk for the bottom part and black mesh for the top part. And I feel like the result fits the bill: it's pretty without being too revealing and it's really comfy.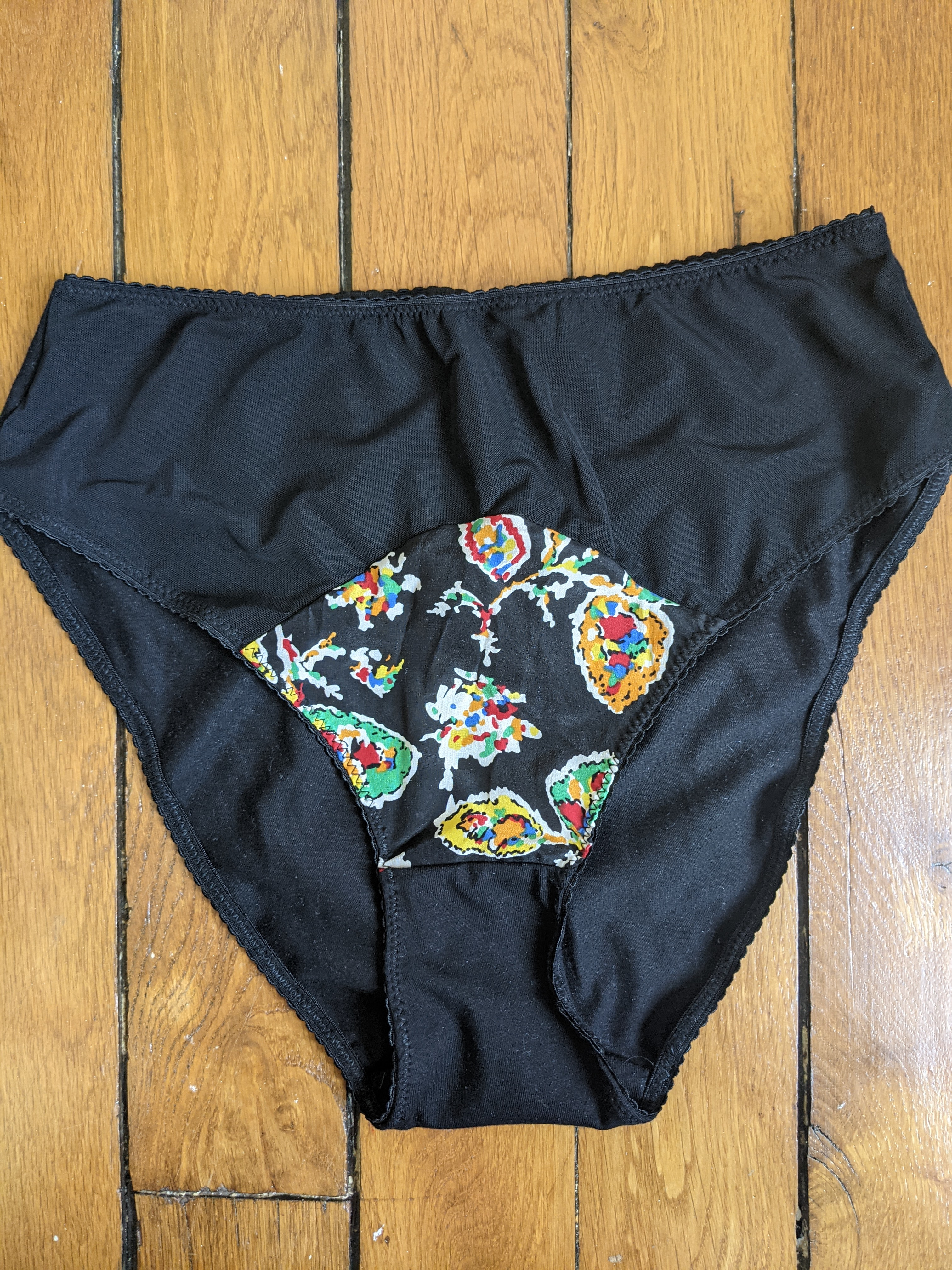 To get to this result, I did alter a bit the pattern:
I removed 1 inch at the top,
I kept the side line to have a 3 1/2 inches side seam,
I redraw the leg opening to join the previous line to the gusset line.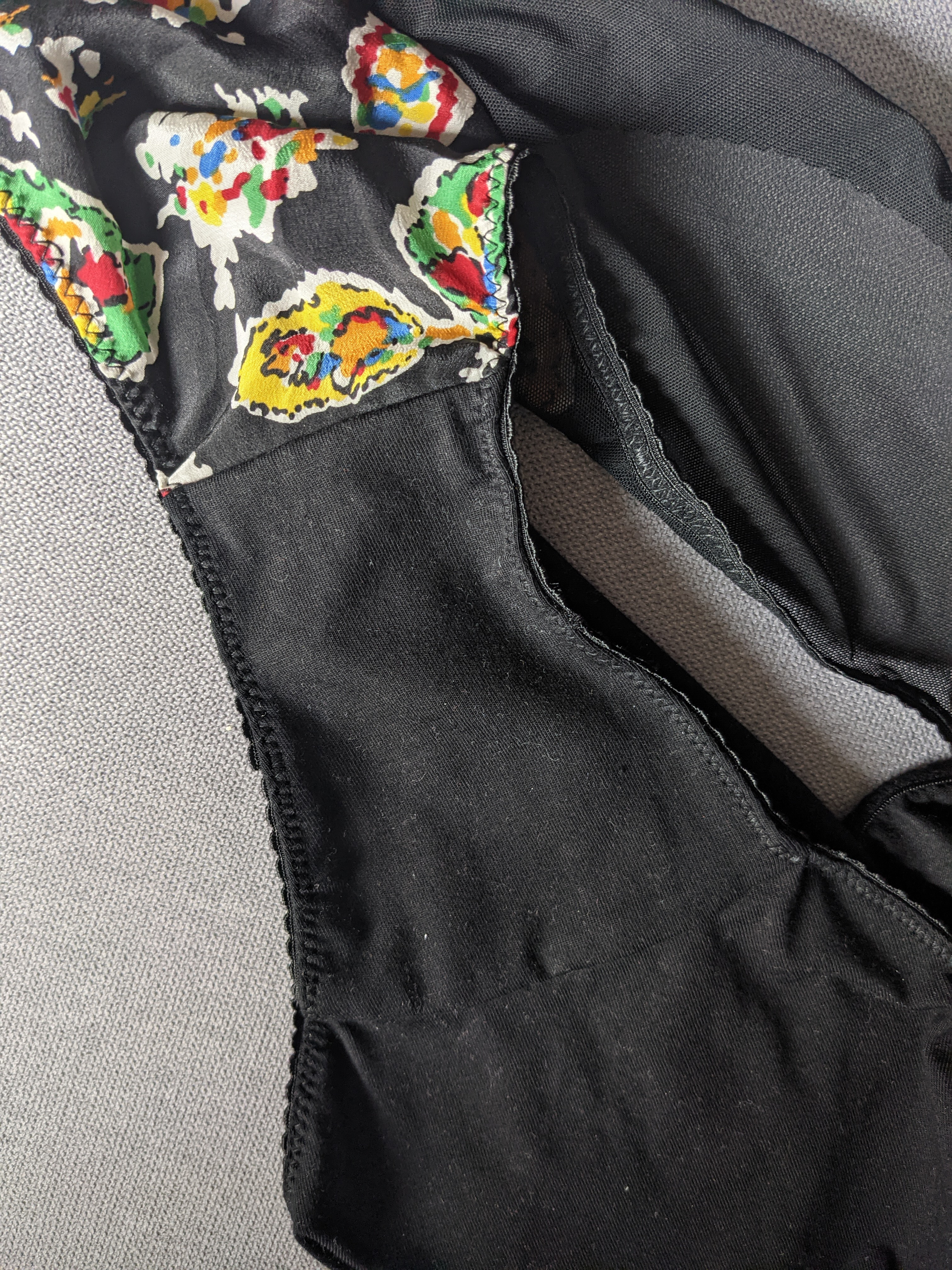 I also added seam allowances to finish the opening with lingerie elastics, and I changed the gusset to have all seams enclosed. It's far from being mandatory but I much more prefer it like this: I find it more comfortable and cleaner.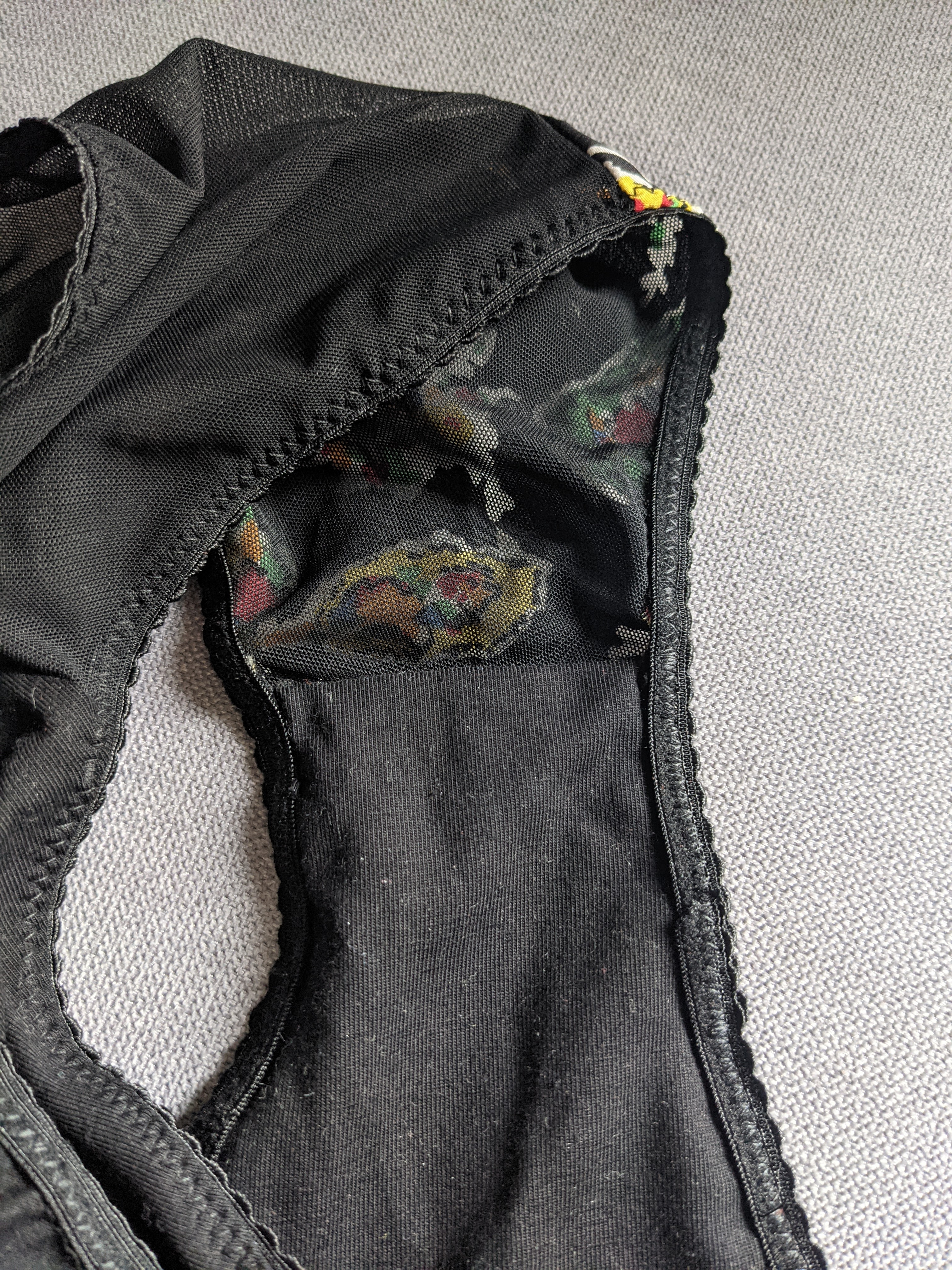 Once all these alterations were made, I drew a round cutout on the front (quite randomly to be honest). I added the seam allowances for the 2 pieces created previously. Just so you know, I decided to line the silk piece with the same mesh used for the top panel.
Notions and fabrics
Quite a lot of notions and fabrics used here, but you know who's the star of this show. The flowery black silk! It actually comes from a really old pajama top. I had it as a gift (fidelity points, if you know what I mean) from a RTW lingerie brand years ago. To be honest I didn't like it. I didn't like the shape and found it highly uncomfortable. But I loved the print so I kept it, hidden away safely at the bottom of my pj drawer. And a few weeks ago, I saw it, once again, and thought it would be a nice fabric for a lingerie project. It's a a really beautiful fabric, but it's a pain to work with: slippery and shifty like you wouldn't know… Anyway, I only used it for small pieces, the powerbars and the outer cradle pieces.
For the rest of the bra:
black tulle as a double layer for the cups, from Emerald Erin,
same tulle for the center of the cradle,
sheer black cup lining to line the cradle,
firm black lycra for the back band from my stash (Sew Me Pl if I remember correctly, but I think it's discontinued),
Orange underwires from Emerald Erin in size 46,
the buttons were salvaged from the top.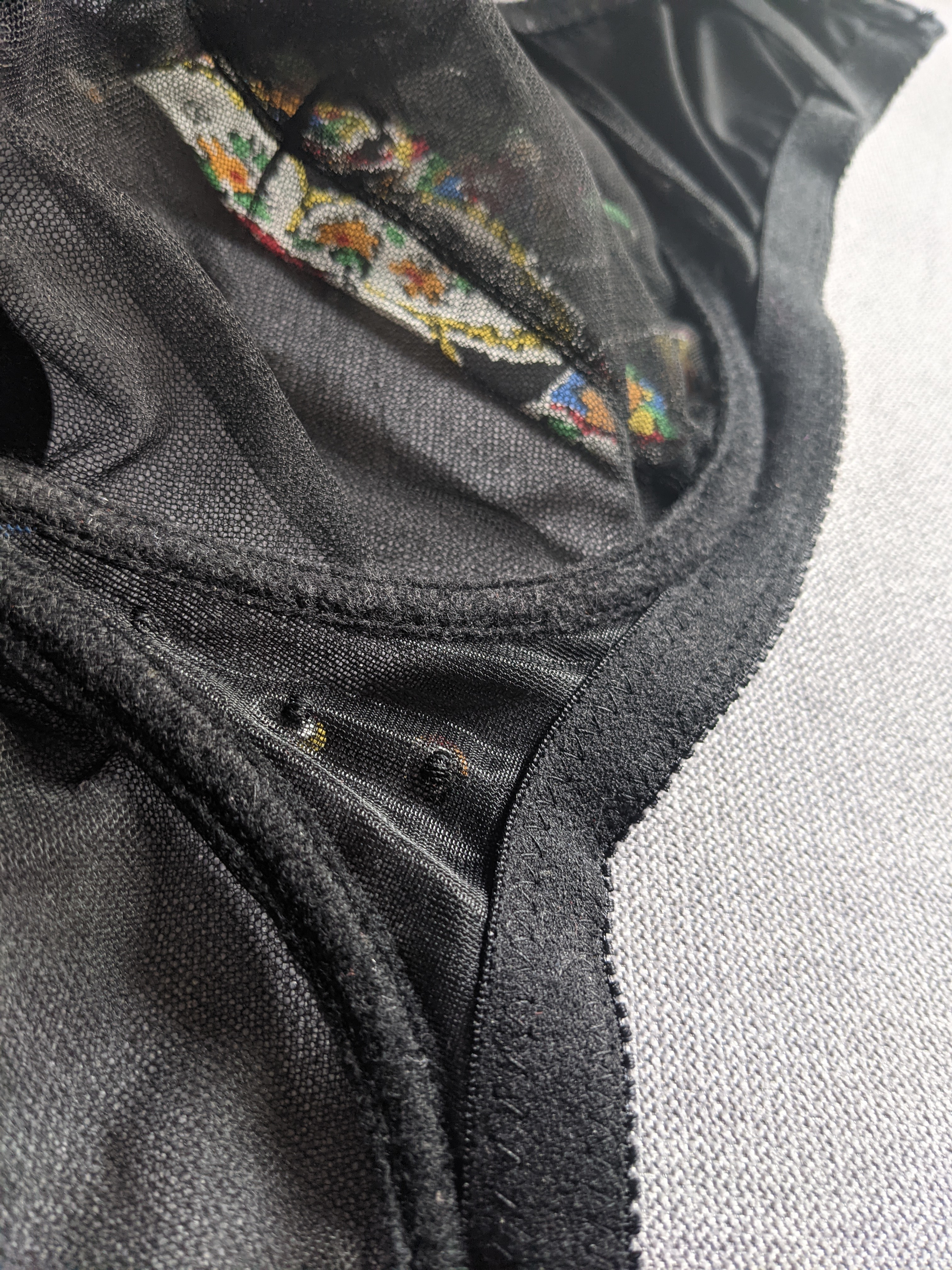 The elastics, straps, hook and eye and other notions came from my stash.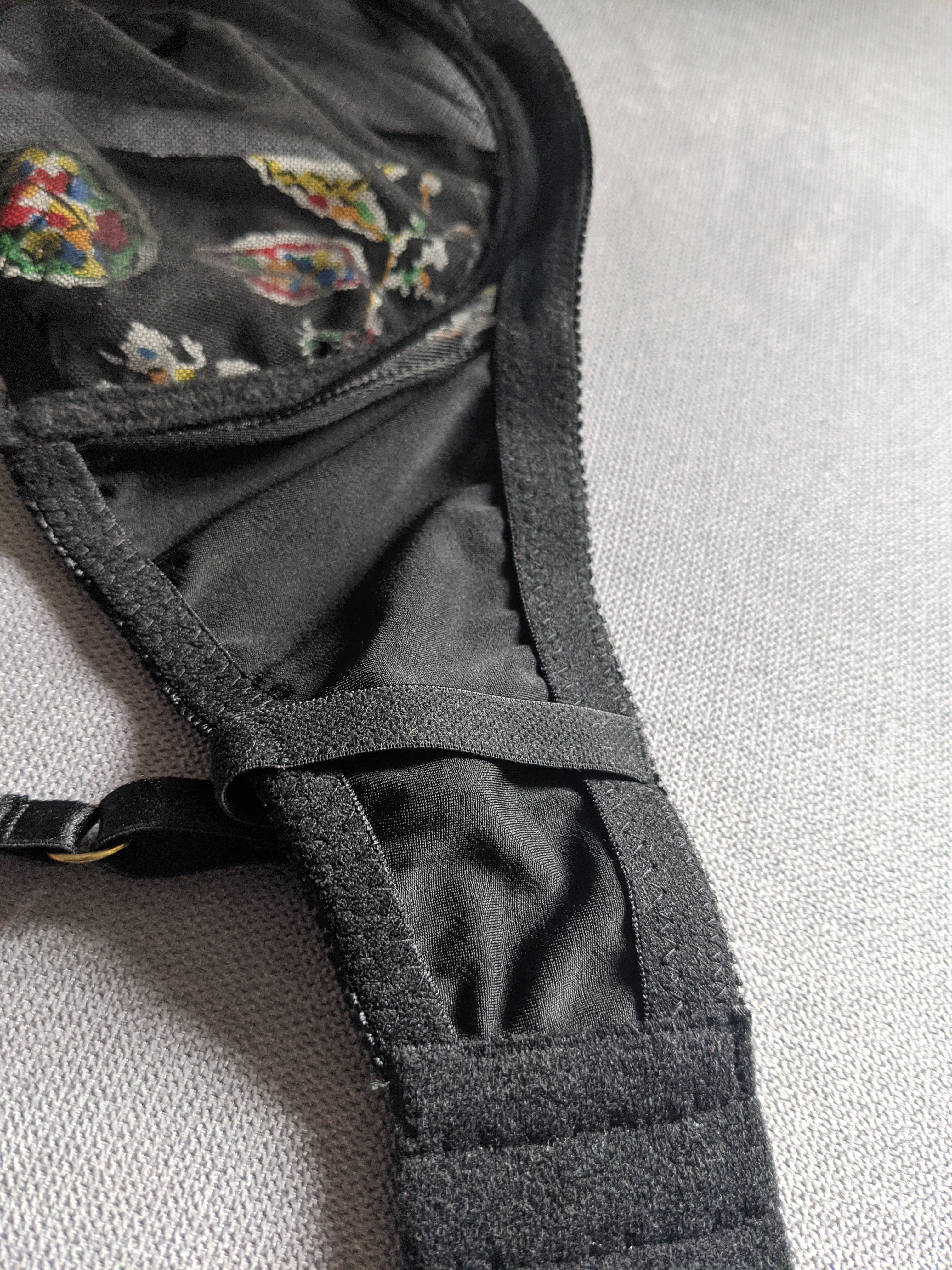 For the panties I used:
the same silk for the cut out,
black mesh for the top panel, and as a lining for the silk piece,
a scrap of black cotton jersey for the back, the gusset and the gusset lining.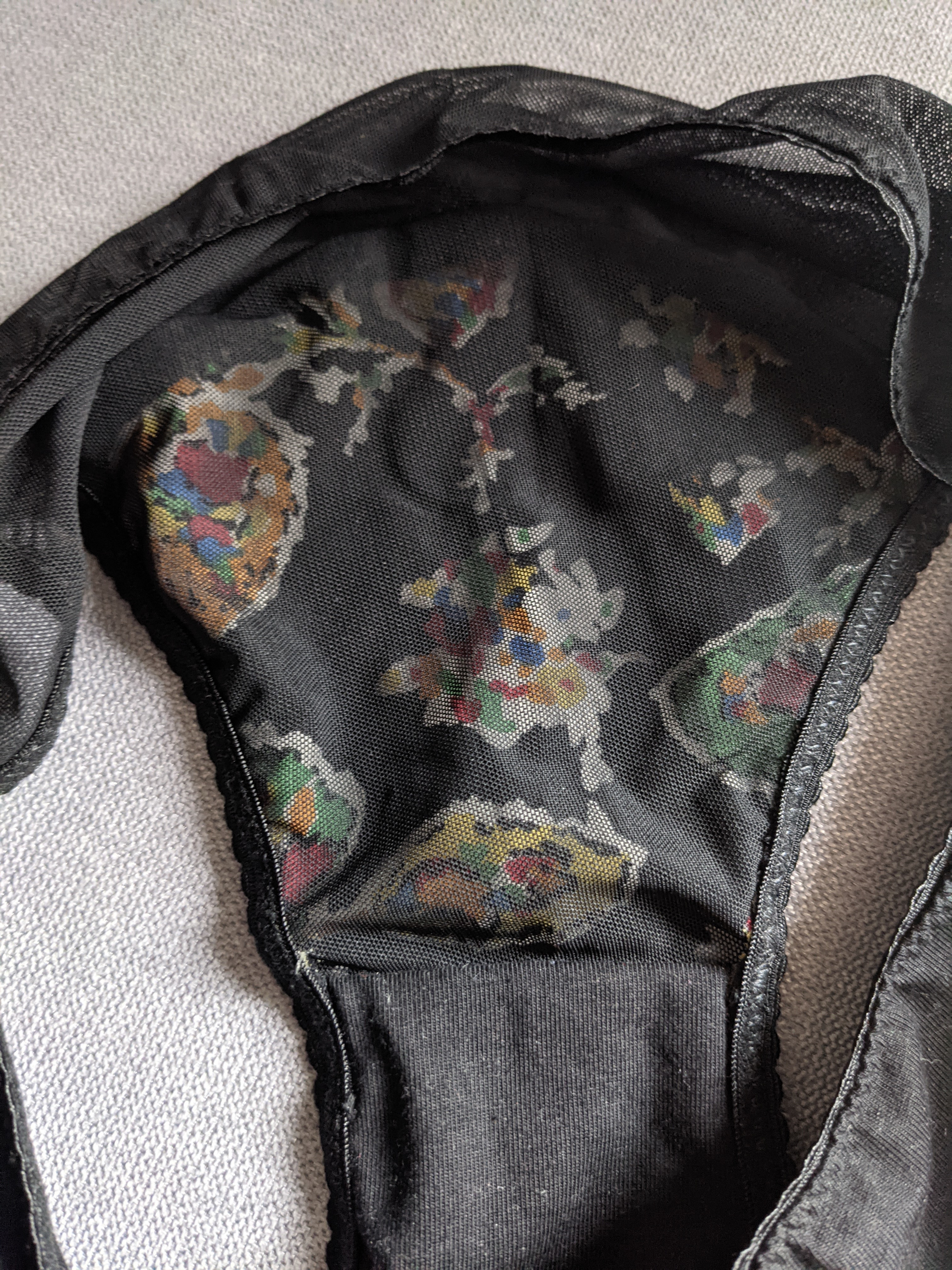 Verdict
I love this set. I find it really pretty and sooo comfortable. I like the shaping of the vertical seam on the cups and it brings great support. And the undies are nice while being extremely comfortable. So I'd say it's a success!
It's not the end of my love story with this bra pattern, I still great plans for it… I think I kinda want to see how far I can push the boundaries of this pattern, and see how many different bras I can make out of this single pattern. To be continued…